Onwards and Upwards With Cirque du Soleil's "Totem"
Eric Hernandez, pictured, showcases his hoop dancing skills in Cirque du Soleil's "Totem." (Courtesy of OSA Images)
How to run away and join the circus? For Los Angeles native Eric Hernandez, it involved years of dance tournaments, endurance worthy of Rocky Balboa, a YouTube video, and a whole lot of cardio. Next thing he knew, Cirque du Soleil was on the phone.
"I've been doing dance since I was about 10 years old," says Hernandez, who, even at 22, has the look and built of a high school quarterback. The culture of his Native American background fascinated him very early on, taking particular interest in the hoop dance that the Lumbee tribe performed at weddings. He quickly began performing in competitions throughout the country.
"Cirque du Soleil contacted [the Heard Museum in Phoenix, Arizona]–where I competed in a competition–when they wanted to find a hoop dancer for the show. They gave them my information and they actually found a YouTube video of me that was used as my audition. They offered me a contract and I decided to leave my university, put it on hold to come and tour."
That show was "Totem," Cirque du Soleil's latest production that will be running in San Pedro, Irvine (opens November 21) and Santa Monica (opens January 17) this fall. Throughout its North American tour, it's been receiving rave reviews from the media and audiences alike, but publicist Francis Jalbert explains it best: "Totem is about evolution. For this show, we didn't want to just explore where human civilization came from, but also where we're going. As soon as you step into the theatre, you'll forget your own reality. And you travel with us, literally with us, even for just two hours and a half."
He adds, "The stage opens with a huge turtle skeleton on stage, and our last act is 10 astronauts into space. That's the idea. We come from this little cell but then we become human and then we have dreams. So it explores the potential of the human being, always going onwards and upwards."
Quite a concept it is, and the group captures it spectacularly not only in the production's grandiosity but in its commitment to authenticity as well. Hernandez admits, "Sometimes people criticize it and say, 'Maybe he's not Native American? Should he be on stage?' The truth is if we're doing a Native American dance, we are Native Americans because that's what they made sure they did. They didn't want to put anything fake on stage. Their acts are always genuine. You'll see traditional Chinese unicycles and they're all from China."
"It's so colorful because the show comes from different cultures," according to Jalbert. "For example, supporting the act of Eric was a shot of a marsh in the region of Montreal. Supporting another act, we have a waterfall that was shot in Iceland or lava that was shot in Argentina. It's very earthy because of all those native elements in it."
"Totem"'s company manager, Jeff Lund, is equally enthusiastic about the production. "It's the classic Cirque show, and Cirque is known for inspiring people. There's the story line and there's strong acrobatics and the human element that people have known Cirque to wow them for. You'll walk away and go 'How did those people do that?'"
The production has been on the road for over three years now, with Hernandez joining the cast last year. Still, the dancer is on his game for every show. "Different cities have different crowds, vibes, reactions. It's always a different crowd, always," he asserts.
"We do 10 shows a week, so we're always performing. For me, the biggest thing that keeps me motivated is trying to do new things all the time. I think that's important for every artists because we grow by pushing ourselves. And to be able to perform for 2700 people, that gives you goosebumps enough. They give you energy, you just have to give it right back."
What makes their Los Angeles stop special? For Lund, it's about bringing a world-renowned circus, along with a positive impact towards local businesses, to an unexpected city like San Pedro.
He says, "They're really on an upswing. We, as global citizens, feel it's very important to establish relationships with communities that are trying to reinvent themselves. So it's important for us to always have a positive influence of where we go and what we do. We just don't go into a community to sell tickets. That's not who we are. We really want to establish ourselves as a community member. The more we can do that, it's just a win-win situation for everybody."
*For more information and/or to purchase tickets to Cirque du Soleil's "Totem," visit www.cirquedusoleil.com
Marvin Vasquez contributed to this story.
Video Slider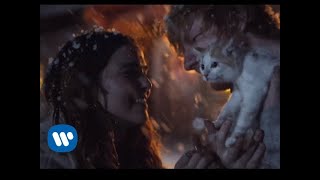 Win Tickets to See Ed Sheeran at the Rose Bowl
Ed Sheeran is back in Los Angeles, and your chance to see him perform is at the Rose Bowl in Pasadena on Saturday, Aug. 18. We are giving away complimentary tickets to the show. For a chance to enter to win, email us at
[email protected]
with "Ed Sheeran" in the subject line and tell us why you would like to go.