Once You Dine at RockSugar Pan Asian Kitchen, You'll Want to Return Again and Again
Each and every bite of Chef Mohan Ismail's Roasted Wild Black Cod at RockSugar Pan Asian Kitchen is perfection.
If Fridays are for dates, then RockSugar Pan Asian Kitchen is the place. From the moment you enter the door, the ambiance is set: romantic, dark and dim lighting, warm wood paneling embraces the wall and Asian-inspired smooth sounds fill the beautiful space. Really, anyone can enjoy this restaurant anytime. Whether you need to wind down and enjoy a delicious meal after a long hard day at work or you're meeting up with friends to get the weekend started, RockSugar is exactly where you want to be.
I was seated in a comfy booth with an amazing vantage point of the entire restaurant and, as a bonus, a nice view of the delicious dishes I couldn't wait to try. And boy oh boy, did I try. Recently returned from an inspirational pilgrimage to Thailand, Malaysia and Singapore, I was humbled to have Chef Mohan Ismail stop by my table and share a bit about his signature dish. Thankfully, Chef Ismail also made mention of the most underrated dish on the menu – inspired by a Singapore staple – the Daikon Rice Cakes. He encouraged me to try as much as I could, and I was happy to oblige.
My meal began with three appetizers. The first was the Chicken and Mushroom Lettuce Wraps. If you don't think you're a lettuce wrap person, think again. The use of crisp Romaine lettuce leaves allows you to really fill the center with a hearty helping of the chicken and mushroom mixture, and water chestnuts add just the right bit of crunch to each bite. The Lacquered BBQ Ribs were one of the Chef's signature dishes, and as I took that first bite, there was no questioning why. These ribs were hearty, meaty and full of flavor. The glaze nostalgically reminded me of warm home cooking, but it was like the flavors had been magically elevated. Perfect in every way. But my favorite appetizer by far was the Salmon Tartare. This dish was fresh, light and an exquisite twist on standard tartare. Pistachios and pomegranate seeds aren't usually what one would think of at the mention of tartare, but the flavors and textures complimented this salmon dish perfectly.
As full as I was already becoming, I mentally prepared myself for the five main dishes that were on their way. Traditional and warm Green Curry Chicken, Malaysian Peppered Beef – generously mixed with broccoli and cilantro – and Kuala Lumpur Noodles deliciously tossed with calamari and shrimp arrived first. Luckily I slowed down a bit and saved room for the Daikon Rice Cakes and the Roasted Wild Black Cod.
As I took my first bite of the Daikon Rice Cakes, I immediately understood why the globetrotting chef said this dish was underrated. Rice Cakes are usually associated with the bland bagged wafers you find on a grocery aisle shelf. This dish is not what you think. Rather, it is a savory dish of bite-sized rice cakes covered in a Sriracha honey glaze and garnished with delicious greenery – the best rice cake I have ever had. This dish was only to be topped by the Roasted Wild Black Cod. I make no apologies for being a lover of seafood. It is at the core of my foodie self. I could not have been happier that this fish did not disappoint. Full of flavor and smooth like butter, the cod truly melted in my mouth. I could order this dish a thousand times. It sat atop a bed of greens and was covered in sliced scallions for a clean finish. Each and every bite was perfection.
Now, one cannot have a meal like that and skip by dessert. So of course, I had to try them all. The Caramelized Banana Custard Cake had the most delicious pistachio brittle ever. The Creme Brulee Trio boasted mango, coconut and chocolate passion fruit. This dessert was a delicate balance of fruity flavors and rich decadence. Last but definitely not least were the Ice Creams. How could one ever go wrong with ice cream – especially when the flavors are Viet Coffee, Chocolate and Condensed Milk?! Leave it to RockSugar to make even the simplest of desserts the most exciting selection on the menu. The trio of creamy frozen scoops were served with a house-made cookie – thin, crunchy, buttery and perfectly paired with all three flavors. Sliced strawberries added a freshness and left the palate feeling clean – amazing and the perfect finish to my over-the-top delectable meal.
Once you try RockSugar once, you will find yourself heading over to the west side to dine at this gorgeous establishment again and again and again.
RockSugar Pan Asian Kitchen is located at 10250 Santa Monica Blvd., Los Angeles. For more information, call (310) 552-9988 or visit rocksugarpanasiankitchen.com.
Video Slider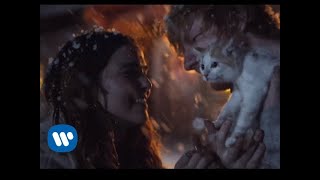 Win Tickets to See Ed Sheeran at the Rose Bowl
Ed Sheeran is back in Los Angeles, and your chance to see him perform is at the Rose Bowl in Pasadena on Saturday, Aug. 18. We are giving away complimentary tickets to the show. For a chance to enter to win, email us at
[email protected]
with "Ed Sheeran" in the subject line and tell us why you would like to go.