On the Green Carpet at The Peanuts Movie Premiere
Noah Schnapp, who voices Charlie Brown, with Snoopy at The Peanuts Movie premiere in Westwood. (Keziah Arnold)
From generation to generation, the comic strip that Charles M. Schulz created years ago continues to be one of the most beloved cartoons of all time. From classic TV specials such as It's the Great Pumpkin, Charlie Brown to A Charlie Brown Christmas, we just can't get enough of the timeless Peanuts characters that have brought so many smiles and laughter into our lives, and now they hit the big screen.
The Peanuts Movie is a 3D computer-animated comedy is directed by Steve Martino and written by Craig Schulz, Bryan Schulz and Cornelius Uliano. With the voice talents of up-and-coming actors Noah Schnapp (Charlie Brown), Francesca Capaldi (VLittle Red-Haired Girl/Frieda) and Hadley Belle Miller (Lucy), the film is ready to take the world by storm with a new generation of charming young performers.
Snoopy and the cast stepped onto the green carpet Sunday afternoon for the world premiere of The Peanuts Movie. Being one of the most-anticipated movies of 2015, excitement filled the air outside the Fox Theater in Westwood, with adoring fans waiting for the Peanuts entourage.
Schnapp was ecstatic to share his similarities with Charlie Brown.
"I relate to Charlie Brown because whenever he fails, he gets back up and tries again," said Schnapp. "I try to be like that, too."
It was such a delight to see such a close friendship between the cast members, with this being the first premiere they had ever attended.
Director Martino walked the carpet with Snoopy by his side and shared a few words with us about the Peanuts gang throughout the years.
"Peanuts has never lost that thing that it has always had, which is a very realistic tone," said Martino. "You don't see that a lot in kids entertainment over the years. [Those films] tend to be too optimistic and too unrealistic."
Martino continued to convey the message that the Peanuts cartoons are realistic and uplifting for kids going through a hard time.
"What I love about Peanuts is that these are the real-life situations of Charlie Brown," said Martino. "He gets depressed sometimes and he gets knocked down, but he comes back. It really teaches lessons to kids about not losing your uplifted spirit."
As 2015 comes to a close, The Peanuts Movie is the one film you just cannot miss.
The Peanuts Movie is now in theaters.
Video Slider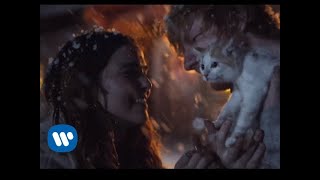 Win Tickets to See Ed Sheeran at the Rose Bowl
Ed Sheeran is back in Los Angeles, and your chance to see him perform is at the Rose Bowl in Pasadena on Saturday, Aug. 18. We are giving away complimentary tickets to the show. For a chance to enter to win, email us at
[email protected]
with "Ed Sheeran" in the subject line and tell us why you would like to go.