Off the Hook Santa Monica Seafood Festival: A Treat for the Tastebuds and Senses
Canon Club's flavorful Oyster Po' Boy was a highlight at Off the Hook. (Yuri Shimoda/LOL-LA)
This Saturday, the beachside hamlet of sunny Santa Monica found itself invaded by creatures from the deep. But don't fear, Godzilla hasn't migrated from Japan to the California coast just yet. No, this aquatic onslaught came in the form of delicious, nutritious seafood, purveyed by the finest seafood restaurants in town for the first annual Off The Hook Santa Monica Seafood Festival!
A large swath of the scenic Santa Monica Pier was cordoned off for the event, which found bustling throngs wading water-bound from all parts of the city in order to sample a delectable assortment of taste treats. Sixteen different high-end eateries – ranging from national chain Bubba Gump to uber-chic boutique the Farm of Beverly Hills – trotted out their scrumptious selection of fish, shellfish, mollusks and crustaceans. Though this reporter found all the selected dishes to be delicious, particular kudos are due to Canon Club's flavorful Oyster Po' Boy, Rusty's Surf Ranch's finger-licking Louisiana-Style Crab Cake, the Lobster's ingenious Lobster Corn Dog and the mouth-watering ice cream of Salt & Straw.
But food wasn't the only thing being served up at the SaMo Seafood Fest – the booze was also flowing freely, with plentiful displays of Avion Tequila, Bloody Gerry, Shock Top Beer, Moet Ice and Infuse Vodka. In addition, guests loaded up on free vino courtesy of a Cielo Wine Estate tasting.
Off the Hook may include a food fair, but it's billed as a full-blown festival, and, in that respect, the event truly lived up to its name, with live musical performances from bands such as the Black Crystal Wolf Kids and Brightside. Guests were also treated to a number of edu-taining "Seafood Sessions" –maritime TED-talk equivalents on elucidating topics such as: the "History of the Santa Monica Pier," "What It Takes To Build An Oyster Farm" and "How to Choose Sustainable Seafood." Finally, the shindig was capped off with an intense oyster-shucking competition, featuring visitors going mano y mano with mollusks.
Overall, Off the Hook was a real treat for both the tastebuds and the senses. This great, thrilling event brought the delicacies of the sea up onto the Santa Monica pier, and in doing so, taught everyone involved an important lesson about why such food matters in the first place. Indeed, this first-annual festival was a resounding success, and now, every fish fan and crab crazy in Santa Monica waits with baited breath for next year's installment.
Video Slider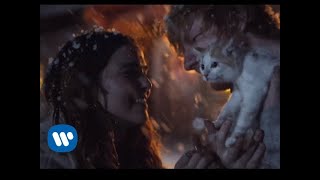 Win Tickets to See Ed Sheeran at the Rose Bowl
Ed Sheeran is back in Los Angeles, and your chance to see him perform is at the Rose Bowl in Pasadena on Saturday, Aug. 18. We are giving away complimentary tickets to the show. For a chance to enter to win, email us at
[email protected]
with "Ed Sheeran" in the subject line and tell us why you would like to go.