A Noise Within's Season Continues with Spring Repertory
"Come Back, Little Sheba" starts March 29 and ends May 17. (Craig Schwartz)
"http://lol-la.com/wp-content/uploads/2019/04/bunbury-banner.jpg" alt="disney on ice banner">
"http://lol-la.com/wp-content/uploads/2019/04/disney-on-ice-banner.jpg" alt="disney on ice banner">
"http://lol-la.com/wp-content/uploads/2019/04/7.png" alt="disney on ice banner">
A Noise Within, led by Producing Artistic Directors Geoff Elliott and Julia Rodriguez-Elliott, begins the second half of its 2013/2014 Season on February 15, 2014 with "Tartuffe" by Molière, "Macbeth" by William Shakespeare, and concluding with "Come Back, Little Sheba" by William Inge.
This season the plays are thematically tied by the tireless search to find that which has been lost.
"Much of life is about managing loss – and the search to find what we perceive we have lost: the longing for spent youth, the sadness for the unyielding search for a lost child," said Rodriguez-Elliott on a prepared statement. "Sometimes it is re-discovery – the thrill of a romance, a self-deception of great entitlement, or finding a key to a locked mind. We've chosen these stories because they all explore values we find precious – love lost, love found, meaning lost and meaning found."
Single tickets (starting at $40) and 3-Play Spring Subscriptions (starting at $109) for 2014 performances are available by calling (626) 356-3100, ext. 1, visiting anoisewithin.org, or by emailing .
Molière's "Tartuffe" starts on February 15 and ends May 24. The world's most famous Scoundrel's story, "Tartuffe" (1664) is comic genius Molière's tale of naiveté, religious hypocrisy, and the triumphant victory of good over evil-and all in 1,962 twelve-syllable lines of rhyming couplets. Like Xerox and Keds, the title character became an English and French noun – a "tartuffe" (tärˈto͞of) is a religious hypocrite, or a hypocritical pretender to excellence of any kind. And like many sharp plays, the French Roman Catholic Church, upper-class French society, and the French mafia — were publically offended; but when the Archbishop of Paris issued an edict threatening excommunication for anyone who watched, performed – or even read the play – the run ended. But then the Archbishop didn't know anything about revivals.
Shakespeare's "Macbeth" (March 8-May 11) is one of the most powerful character studies in all of literature. Macbeth (1606) loses everything that gives meaning and purpose to life before losing his life itself. This is the first time in twelve years that A Noise Within has presented "Macbeth." Production is directed by Tony-nominated Larry Carpenter, who comes to A Noise Within as part of the Edgerton Foundation Fellowship at Occidental College. Sound Designer Cricket S. Myers received a Drama Desk Award and was nominated for a Tony for her work on "Bengal Tiger at the Baghdad Zoo."
Inge's "Come Back, Little Sheba" (March 29 – May 17, 2014) is about a middle-aged couple, awash in what-ifs and drifting apart, takes in a young, vivacious college boarder, creating an explosive catalyst for change at a time when the pace of American life was not so rapid. Inge knew the meaning of repression and loss. In 1947 he joined Alcoholics Anonymous, where he met Lola, who became the basis of "Come Back, Little Sheba" (1950). Shirley Booth came to her greatest acclaim as an actress winning both the Tony Award and an Academy Award for Best Actress for this role.
A Noise Within is located at 3352 E. Foothill Blvd., Pasadena, CA 91107.
Video Slider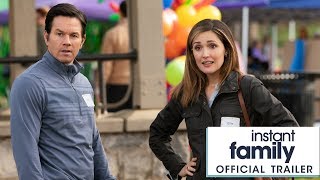 Win a Blu-ray + DVD + Digital Copy of Instant Family
Everyone everywhere can now enjoy Instant Family on Digital and on Blu-ray™ Combo Pack, and DVD on March 5 from Paramount Home Media Distribution. For a chance to enter to win at random, please email us at
[email protected]
with "Instant Family\" in the subject line and let us know why you\'d like to win a copy. This contest ends March 25, 2019.
"http://lol-la.com/wp-content/uploads/2019/04/disney-on-ice-banner.jpg" alt="disney on ice banner">
"http://lol-la.com/wp-content/uploads/2019/04/bunbury-banner.jpg" alt="disney on ice banner">
"http://lol-la.com/wp-content/uploads/2019/04/7.png" alt="disney on ice banner">