Night One of the Fifth Annual Los Angeles Food & Wine Festival
The Golden Tostada from Chef Kyle Johnson of Bourbon Steak was kind of amazing. (Bradford Snow/LOL-LA)
If you live in Downtown, you know what's going on. The culinary best of the best from around the world have landed, and your palates are in their crosshairs. The street in front of the Disney Concert Hall is blocked off, and as the sun goes down, the street lights up.
Hundreds of food and wine vendors from all over have descended on Los Angeles with their best foot forward. The main focus of this event is wine, and it does not disappoint. The selection ranges from local to international offerings.
If you've ever wanted to try something new, this is where you need to be. Representatives from each company are patient and knowledgeable. They pour with intent and give you a real chance to see what is going to work for your tastebuds. They offer pairing options and also suggest what food vendors you should match their wines with.
The highlight for wines was the vast selection from Chile and Spain. They're personal favorites, and both bring unique flavors that counter the overwhelming amount from California.
Also, Los Angeles Food & Wine Festival is not just about wine. There's the presence of vodka, gin, tequila and craft beer. Names like Stella Artois, Goose Island Beer Company and Hendrick's Gin are just a few who made sure they brought out the big guns.
On the food side of things you have the top restaurants in Los Angeles being featured, as well as those from outside the state. A few local favorite food trucks popped up, like the Lobos Truck and Coolhaus Ice Cream Truck, to make things fun.
The most amazing thing there was Water Grill's Wild Tahitian Big Eye Tuna. It was simple and clean. The quality was unmatched and a must if you go.
If fish isn't your thing, check out Bourbon Steak's the Golden Tostada. It's kind of amazing. You taste the caviar way after swallowing the tasty morsel, and will want to return for more.
Oh, by the way, there are desserts as well. Stacks of sweets from a variety of places, but the aforementioned CoolHaus Truck is a must. If you've never had it, go get the Chicken and Waffle Ice Cream!
Overall, this is by far one of the best events to hit Los Angeles all year long. It's only for one weekend, so don't wait, and get in early. The ticket price is very cheap for what you get, and you also get some cool glasses to take home that let you remember how much you filled up your belly and loved every second of it.
For tickets and more information, visit lafw.com.
Video Slider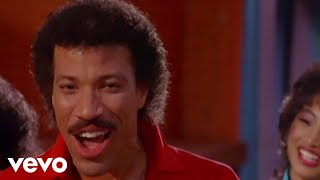 Win Tickets to See Lionel Richie at Hollywood Bowl
Lionel Richie is performing with very special guest Mariah Carey on the All the Hits Tour, and your chance to see them is at the Hollywood Bowl on Monday, July 31.