Naomi Watts Signs On As Global Ambassador for Tommy Hilfiger's Limited-Edition Handbag
Naomi Watts is the latest to sign on as a global ambassador for Tommy Hilfiger's limited-edition handbag for Breast Health International. Watts joins Renée Zellweger, Carla Bruni, Charlotte Gainsbourg, Naomi Campbell, Claudia Schiffer and other women before her in the eighth annual initiative, which benefits BHI's Fund for Living.
"The Fund for Living takes care of people and their very specific needs," Watts told WWD. "Those people that need extra help — like taking care of their children, getting to the doctors, the little details. Can you imagine having to deal with that level of crisis and then trying to maintain a life if you've got children? This just helps with managing things, having that extra support."
Watts is a vision of casual, preppy chic in the campaign, shot by Patrick Demarchelier at her home in Los Angeles. The handbag, in navy-blue pebbled leather with caramel accents, features gold hardware, a detachable strap and, in true Tommy form, a red, white and blue tassel key chain. "It's a really functional bag," said Watts. "You can use it for work, and you can use it for going out. I hate having to change my bag."
The actress had phoned in from her friend's farm, where she was taking a break from shooting Sea of Trees, a new film from Gus Van Sant in which she stars opposite Matthew McConaughey, as well as Insurgent, the sequel in Lionsgate's Divergent trilogy.
"It's a whole new world to me," she said, of playing Evelyn in Insurgent, based on the best-selling science-fiction novel by Veronica Roth. "But it's such a great group of people. I've actually always wanted to get back into a commercial film — it's been a while — and play a sort of camp character."
Priced at $299, the handbag will make its debut on tommy.com on Sept. 25 and land in select Tommy Hilfiger stores globally starting on Oct. 1, with $100 from each one sold benefiting BHI's Fund for Living program.
Video Slider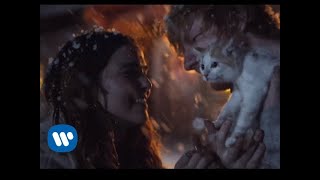 Win Tickets to See Ed Sheeran at the Rose Bowl
Ed Sheeran is back in Los Angeles, and your chance to see him perform is at the Rose Bowl in Pasadena on Saturday, Aug. 18. We are giving away complimentary tickets to the show. For a chance to enter to win, email us at
[email protected]
with "Ed Sheeran" in the subject line and tell us why you would like to go.