Mississippi Grind: The Best Poker Movie in Decades
Ryan Reynolds, far left, in Mississippi Grind. (A24 Films)
Quick, how many good movies about poker can you name? Sure, there is California Split and The Gambler from the '70s and the more recent Rounders, perhaps. But, for the most part, that's probably about it. Poker is one of those games that just does not seem to translate terribly well to the big screen. And if you are a player, you surely understand why this is the case. Unlike fast-paced sports like basketball or hockey, poker is a cerebral game. There is never a lot of action and, unless there's a huge prize on the line, there usually is not a ton of excitement. Visually, there really is no equivalent to a high-flying dunk or wicked slap shot. Of course, playing poker can be thrilling, but watching people play? Maybe not so much.
But thankfully, a movie that came out earlier this year has found a way to portray poker more from a player's point of view. It is called Mississippi Grind and stars Ben Mendelsohn and Ryan Reynolds (and you can learn more about the cast on the IMDb page). Mendelsohn plays Gerry, a guy who used to be a very good gambler. However, his luck has run out and now he owes quite a bit of money to—in his words—everybody. Fortunately for Gerry, he just happens to meet Curtis (Reynolds), who, at the moment, is almost his polar opposite. Curtis is young, charming, and an excellent poker player. But what is the secret to his success? To the shock of Gerry, Curtis tells him that he doesn't care about winning.
In true movie fashion, what starts as friction soon turns into friendship, as well as a business relationship of sorts. Gerry is convinced that Curtis can be his lucky charm, and in order to pay off all of his debts, he convinces him to go down to New Orleans with him to play in a high-stakes poker game. Along the way, they hit every gambling opportunity they can find, and help each other get in, and out, of trouble.
Mississippi Grind owes a big debt of gratitude to those '70s poker films noted by a Grantland article, especially California Split. In fact, the whole movie feels like a throwback and could feasibly have taken place decades ago. But this is a good thing; the topics explored, such as loneliness, friendship, and redemption are all timeless sentiments that resonate no matter the era. You do not have to have ever played poker to enjoy Mississippi Grind. If you like stories about unlikely people who eventually grow to trust and care for each other, this is definitely your kind of film. And if you are an avid poker player and love everything about the game—the highs, the lows, and all else in between—you will definitely appreciate the realness and attention to detail in the film.
The popularity of poker with the general public may have waned a bit recently, but it is still played by many, particularly online. In fact, at any given time on Betfair's platform you can find thousands of people playing. There is a variety of different games, including the always-popular Texas Hold'em, as well as hundreds of tournaments. Additionally, there are still plenty of televised tournaments making the rounds on the small screen. They may not be getting the same amount of eyes as when amateur-turned-professional Chris Moneymaker took home World Series of Poker top honors in 2003, but people are clearly still intrigued by the card game. And who knows, maybe Mississippi Grind could serve as the beginning of a second wave of popularity for poker on a grand scale. If not, at least we got another strong film as a result of the pastime.
Video Slider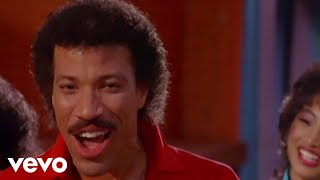 Win Tickets to See Lionel Richie at Hollywood Bowl
Lionel Richie is performing with very special guest Mariah Carey on the All the Hits Tour, and your chance to see them is at the Hollywood Bowl on Monday, July 31.