Mint Trip: Refreshing Their Sound One Color at a Time
Max Molander, Amy Gionfriddo and Brian Gross of Mint Trip
For an up-and-coming band trying to make it in Los Angeles, taking a year-long hiatus from performing live can often be the kiss of death into obscurity, but for the indie rock trio Mint Trip, their upcoming run of May shows will be a refreshing way to reintroduce themselves to their drawing fanbase.
"We're treating these new shows as our comeback," says singer Amy Gionfriddo. "When we first moved here, we were gigging at least once every three weeks until the end of December."
The trio, rounded out by guitarist Max Molander and bassist Brian Gross, play an eclectic blend of indie, electronic pop and trip-hop that sounds like one part La Roux and one part Tycho with serenely powerful vocals from Gionfriddo that evoke the spirit of trip-hop artists such as Portishead and Massive Attack. The three met as students of the University of Miami's Frost School of Music after teaming up in a music ensemble class that required them to form a group and write an original song for a show. The three soon began collaborating together until finally forming a solid set of songs.
"We remember not being friends, and then we remember being very close friends, and there really wasn't an in between," Gionfriddo says. "We kinda just met, and it all clicked."
After graduating, the trio decided to go all in with the group and relocated to a home in North Hollywood where the three all reside and practice constantly.
"It's crazy what the vibe is like because the three of us have lived together the past three years and become business partners with this project, and we're also each other's best friends," Gionfriddo says.
The small confines and constant interactions that the three 20-something musicians in Los Angeles have to work in doesn't hinder their productivity or communication, in fact, the band tends to revel in it.
"I think the fact that we're three helps. It'd be harder to find two or four members that don't butt heads," Molander says.
"Our strength and weakness between the three of us cover all the skills and perspectives we really need to keep growing," Gionfriddo adds. "It's a nice balance."
In 2016 the band released their EP, Books, a collection of five soulful and introspective tracks, driven by airy, ethereal guitars, deep basslines and seductively poetic lyrics that talk of heartache, love and longing.
Although the band began hitting the L.A. scene hard, the trio began work on their upcoming LP and decided to take a break from the live gigs to refine their songwriting and create a new set of songs.
"We've been working crazy hard, and we wanted to have something new and exciting and different for the people who have seen us before," Molander says. "But also, if you've never seen us before, it'll be that much better with more material."
The trio has also announced the release of a limited edition, colored vinyl 7", Ghosts, on Blue Elan Records. The 7" contains three tracks from Books, pressed on a mint green color variant, a nod to the band's musical mission.
"We chose the name Mint Trip because [mint] is a color, a smell and a flavor, and we wanted to make it a sound," Gross says. "We were looking for a name that would fit our sound and what we were going for."
With a slew of new songs, a new 7" record and a full-length in the works, the three music makers are looking forward to taking L.A. by storm with mint green color and sound.
"We're trying to make our presence known," Gionfriddo says. "Seeing nothing but mint for the past two years since we started this band, I'm still not sick of it. We think it works (laughs)."
Mint Trip perform May 2 at Pour Vous in Hollywood, May 20 at Brewyard Beer Company in Glendale and May 31 at Now Boarding LA. For more information, visit minttripmusic.com.
Marvin Vasquez contributed to this story.
Video Slider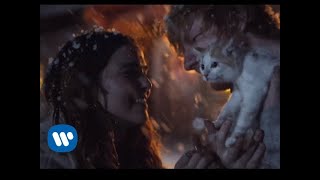 Win Tickets to See Ed Sheeran at the Rose Bowl
Ed Sheeran is back in Los Angeles, and your chance to see him perform is at the Rose Bowl in Pasadena on Saturday, Aug. 18. We are giving away complimentary tickets to the show. For a chance to enter to win, email us at
[email protected]
with "Ed Sheeran" in the subject line and tell us why you would like to go.