Men's Fashion: The Most Stylish Celebrities in Los Angeles
From Ben Baller (pictured) to Matt Kemp, a look at some of the most stylish famous men in the city. (Facebook)
Ben Baller – This ex-DJ creates some of the most exquisite, expensive and one-of-a-kind pieces of jewelry that are, in a sense, priceless for the celebrities he shapes them for. This guy is known for two things when he steps out on the street: his nice kicks and his gleaming gems. No matter what time of the day (or night) it is, there is no way you'll catch the self-proclaimed "best jeweler in the world" without his two essentials. He makes this list because his style is simple and clean – with the exception of his jewelry of course.
Swaggy P – Nick "Swaggy P" Young is a shooting guard for the Los Angeles Lakers, one of the most stylish men in the city and arguably the biggest sneakerhead in basketball. This man brings the heat with his sneaker game on and off the court by wearing the most coveted kicks of all time.
Chris Paul – Or is it Cliff Paul? Who knows? Well, he makes this list because he acts and dresses his age. Like all athletes, he does have his moments when he pulls out jewelry and snakeskin baseball caps, but most of the time this guy is simple. His post-game interviews are always in blazers and button-ups, keeping it classy at all times.
Kendrick Lamar – The rapper from Compton, Calif. makes this list because of what he wore at the BET Hip Hop Awards in 2013. He stepped out in a Dodgers fitted cap, a flannel, khakis and, of course, the iconic Nike Cortez sneakers, embracing his West Coast background in the city of Atlanta. Lamar stands in a league of his own within rap fashion, turning any article of clothing into a very distinct L.A. gangster-rap look.
Tyler the Creator – This guy does not care one bit about fashion but somehow and someway found a form to impact L.A. culture and, very soon, the entire world. His daily wardrobe consists of 5-panel hats, striped tube socks, Vans, cut-off shorts, Supreme hoodies or tie-dye shirts. I wouldn't be surprised if he's never worn a suit in his life. He and Odd Future are two of the very few people who are allowed to wear cut-offs and 5-panel hats to a red carpet event and still get seated next to Brad Pitt. If you're older than 25-years-old, I don't think you should be trying to copy his style.
Matt Kemp – Although he isn't quite at the top of his game yet, he is, however, at the top of the fashion list. He makes this list because he's good at "Fashion" all around. He wears suits and ties properly, he wears designer sneakers without looking childish and he's always well groomed. He has pierced ears but doesn't flash obnoxiously large diamonds, and he has a beard but doesn't look like a lumberjack.
Video Slider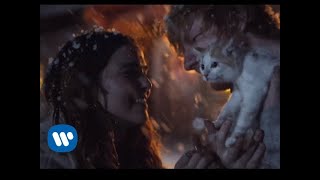 Win Tickets to See Ed Sheeran at the Rose Bowl
Ed Sheeran is back in Los Angeles, and your chance to see him perform is at the Rose Bowl in Pasadena on Saturday, Aug. 18. We are giving away complimentary tickets to the show. For a chance to enter to win, email us at
[email protected]
with "Ed Sheeran" in the subject line and tell us why you would like to go.