Meli's Monster Cookies Make Baking Easier and More Tasty
Meli's Monster Cookies (Courtesy photo)
"http://lol-la.com/wp-content/uploads/2019/04/728.jpg">
"http://lol-la.com/wp-content/uploads/2019/04/Mermaid-Marquee-728x90.jpg">
"http://lol-la.com/wp-content/uploads/2019/04/728.jpg">
"http://lol-la.com/wp-content/uploads/2019/04/disney-on-ice-banner.jpg" alt="disney on ice banner">
"http://lol-la.com/wp-content/uploads/2019/04/3.gif">
"http://lol-la.com/wp-content/uploads/2019/04/7.png" alt="disney on ice banner">
Are you in the mood for some delicious, home-baked cookies? Don't bother buying the usual refrigerated ones, make your own. Or use pre-baked ones that are better than the standard frozen cookies.
Don't worry, Meli's Monster Cookies has made it quick and easy.
Founded by Melissa Blue and Melissa Mehall, the company was started with a recipe from Blue's mother-in-law.
Blue and Mehall have been friends for over 30 years and joined forces to create a product that not only tastes delicious, but is also gluten-free.
Purchasing only certified gluten-free oats, consumers can be sure they won't be getting the typical gluten substitutes resulting in dry tasting treats, but instead will end up with moist and chewy sweets.
Available in either pre-baked or dry mix options, the cookies are also high fiber and protein.
For those wanting to bake their own cookies, a dry mix is available in Original, Choco-Lot and Cashewlicious.
All of the flavors are made with certified gluten-free oats.
The Original dry mix features semi-sweet chocolate chips, M&M's and peanut butter M&M's.
The Choco-Lot mix contains semi-sweet chocolate chips and chunks, and white chocolate chips while the Cashewlicious mix contains dried cherries and dark chocolate chips.
The simple recipe can be located on the packaging and with just three simple ingredients, the cookies will be ready to eat within 7-10 minutes.
When it comes to pre-baked options, the Original and Choco-Lot flavors are available for purchase.
Simply pull them from your freezer, thaw them in 5-10 minutes and enjoy a chewy and moist cookie.
Baking should be a stress-free experience and thanks to Monster Meli's Cookies, it just got incredibly easier.
Orders can be placed on Amazon and a list of retailers around the U.S. can be found at www.meliscookies.com.
Place your order today and get ready for mouth-watering, deliciously chewy cookies straight from your oven.
Video Slider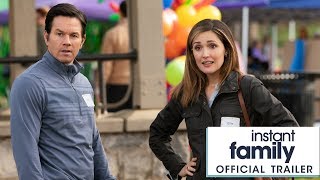 Win a Blu-ray + DVD + Digital Copy of Instant Family
Everyone everywhere can now enjoy Instant Family on Digital and on Blu-ray™ Combo Pack, and DVD on March 5 from Paramount Home Media Distribution. For a chance to enter to win at random, please email us at
[email protected]
with "Instant Family\" in the subject line and let us know why you\'d like to win a copy. This contest ends March 25, 2019.
"http://lol-la.com/wp-content/uploads/2019/04/3.gif">
"http://lol-la.com/wp-content/uploads/2019/04/Mermaid-Marquee-728x90.jpg">
"http://lol-la.com/wp-content/uploads/2019/04/disney-on-ice-banner.jpg" alt="disney on ice banner">
"http://lol-la.com/wp-content/uploads/2019/04/728.jpg">
"http://lol-la.com/wp-content/uploads/2019/04/7.png" alt="disney on ice banner">
"http://lol-la.com/wp-content/uploads/2019/04/728.jpg">