Meet Cinco Santos, the New Sensation in Spanish Rock
Cinco Santos has arrived as the new sensation in Spanish rock here in Los Angeles, and they just released their new album, Duplicidad, which is already gaining popularity through its single, "Candela," and showcases all five members' different personalities and musical styles.
The quintet is comprised of Daniel Jimenez, Lorenzo Montero, Willard Lozano Jesse Stern and Emiliano Almeida, and all are seasoned musicians and songwriters. Cinco Santos is an alternative Spanish rock band, and they have steadily climbed the ladder of success and gained much deserved notoriety in the L.A. music scene.
All from different ethnic backgrounds and perspectives, they have managed to come together and form a great team founded on communication and professionalism with one goal: to fuse together their different styles and experience to create their own unique sound.
After much persistence and effort, Cinco Santos has just released a new self-produced album. In an exclusive interview with Living Out Loud, Jimenez and Montero discuss their journey and how they got to this point.
Living Out Loud: How do you feel about where you are in your career?
Daniel Jimenez: We're very excited about the release of the album. It's been a wonderful project for us to develop, and we're very happy to be sharing our work with our fans.
LOL: Would you say your unique blend of distinct musical styles is what has distinguished you as a band?
DJ: Yeah. Everyone brings their own different influence, and we all have great chemistry together. All that is conducive to an ideal working environment and makes everything go smoothly. This blend has served us well, and "Candela" and "Azúcar y Amor" are great examples of that.
LOL: Are you satisfied with the response to the album so far and where you are as a band?
DJ: We're currently promoting the album independently, and that's a constant struggle. It requires a lot of effort on our part, but we put all we have into it. We also have support from Criteria Entertainment, and they have helped us reach fans and get media exposure. We're confident we'll be a hit soon, but like I said, getting here has been a struggle.
Lorenzo Montero: Besides it being a great pleasure, I personally feel very fortunate to be part of Cinco Santos. Finding what we have together is like finding a needle in a haystack. Everyone knows that there are countless bands in L.A., and for us to have the following we've gained is fantastic. We're glad everything has lined up the way it has because it's allowed us to make the music we want.
LOL: What message do you wish to send with "Candela"?
DJ: "Candela" is one of the songs we wrote as a band and explores how we feel, and how as Latinos we tend to be very passionate in our way of loving and doing many other things. The song talks about this, relating it to parties, relationships and a night in the city – all of which have contributed in shaping our emotions.
LM: I think this is particularly true for Latinos living here in the U.S. because that fire is also reflective of our optimism of being in a place where we can pursue a better life. That, in one way or another, changes how your roots develop and your culture, and despite how we assimilate, we'll always have that passion with us.
LOL: Tell us about the songwriting process and how you go about selecting the right tracks.
DJ: We write some independently, and then bring them in and all contribute with arranging; we also write some together. That's something we've been doing more lately. We'll get together in a circle and just write there and exchange ideas. We're very happy with this method, and so far it's served us very well.
LOL: Will you guys give it up if you don't find the success you are looking for soon?
LM: I think success starts as soon as one is able to do what they love. Because of that, I see that we are already successful. We all have freedom of expression and have done what we wanted. Also, the fact that we get along so well and concur as much as we do, is success in itself. That said, if commercial success doesn't come soon, we'll keep working at it because we've invested so much into it. We've made it this far because of the respect we have for one another, and we wear our hearts on our sleeves and gladly give them up for our fans.
Duplicidad is currently available. For more information, visit cincosantos.com.
Edison Millan contributed to this story.
Video Slider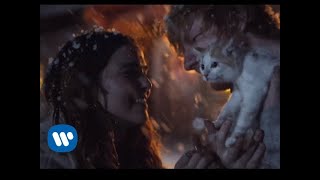 Win Tickets to See Ed Sheeran at the Rose Bowl
Ed Sheeran is back in Los Angeles, and your chance to see him perform is at the Rose Bowl in Pasadena on Saturday, Aug. 18. We are giving away complimentary tickets to the show. For a chance to enter to win, email us at
[email protected]
with "Ed Sheeran" in the subject line and tell us why you would like to go.