Maximiliano Hernández Appreciates the Brutal Honesty of His Latest Film, Sicario
Benicio Del Toro and Maximiliano Hernández in Sicario (Lionsgate)
For the past 20 years or so, Sicario's Maximiliano Hernández is one of those actors who's popped up as a guest star on one of your favorite TV shows. From "Law & Order" and "Numb3rs" to "24" and "Southland," chances are, he's been seen on the small screen in your living room. The funny thing is, he stumbled into an acting career pretty much by accident at his Brooklyn school.
"It's kind of a two-fold story. I would always come to school late, and you got an automatic detention for being late. My English teacher told me that if I joined the theater group, then I'd never have to go to detention. 'After school, instead of pretending to do your homework, you would actually be doing something,'" he recalls. "The second part is that in the drama club, there were 12 girls and only two guys. It was a no-brainer, and I was like, 'Why aren't more guys here? I've stumbled onto something here.' So that's how I got into acting, and it turned out to be pretty OK."
Pretty OK is right. Instead of being stuck in TV guest-star purgatory, Hernández managed to land one of the best gigs in Hollywood as a member of the Marvel universe.
"It started with Thor. Then I was in a Marvel short that was on the Captain America Blu-ray. Then they asked me back for Captain America: Winter Soldier. Marvel has a plan for like 10 years out. They know what they're going to do 10 years from now with the trajectory of the storylines. Then I did a short, then The Avengers, then another short, then 'Agents of S.H.I.E.L.D.,' and it all connected back to Winter Soldier. The Marvel universe is like a family, and they treat you that way too.
"When I was doing that, I was also doing 'The Americans,'" he continues. "The fans of ['The Americans'] are super diehard fans. I've had people come up to me to autograph their DVD box sets. With TV, people feel connected to you because you're in their home."
He's also managed to land a guest-acting gig on another of the most buzziest shows of the moment, "The Walking Dead."
"I was shooting 'The Walking Dead' and Sicario at the same time. I was in Mexico shooting Sicario, so we arranged it where I was flying back and forth for the month of August. I'm a big fan of the show myself. I wish I could have been on the show longer, but it wouldn't have worked out with the movie shoot anyways. I learned a lot of things on ["The Walking Dead"] set. As a fan, it was awful because I found out this guy was dying or that person was dying."
Speaking of dying, Hernández stars in Sicario, a film about the drug war happening at the U.S. and Mexico border that is unapologetic about the horrors created and the casualties caused by the ongoing conflict between the drug cartels and drug enforcement agents.
"It's shocking. Part of my research was looking at local newscasts from American cities on the border. On the news, you would see piles of dead bodies. This isn't to take away from law enforcement because they're great, but you're sending guys down there, and it's like sticking your fingers in a hole in the dam as opposed to just fixing the dam. That's what the war on drugs is. It's a lot of band-aids, a lot of temporary fixes and, Sicario illustrates that. You need to know what's happening. The war on drugs has been happening for 40 years, and drug consumption has not gone down."
The brutality of the movie hasn't scared away critics or audiences, however. Sicario currently sits with a 7.8/10 rating on Imdb and a 93-percent fresh rating on Rotten Tomatoes. The National Board Review named it as one of the best films of the year, it's been nominated for three BAFTA awards and has been mentioned by many critics groups across the country.
"This is a movie that people can have conversations about. It's nice to be a part of something that's not socially disposable, that sparks conversation. It's happening right at our border, and it's something people should know. If you're informed and entertained at the same time, that's the best way. It's a brutal, unflinching, direct look at what's happening. The director [Denis Villeneuve] did a great job, and he's French-Canadian looking at it from a completely objective point of view. There's no tinge of Americanisms in it. It's not glossy or overly 'Hollywood.' It's just brutal, which is how I felt when I watched 12 Years a Slave which was done by a British director. When you have someone from the outside looking in, you get a completely different view. I think Sicario did that well. I think it was a brutal, honest portrayal of what's happening in border cities."
Sicario is now available on Digital HD and DVD/Blu-ray. You can also catch Maximiliano Hernández in Season 3 of TNT's "The Last Ship" in June.
Video Slider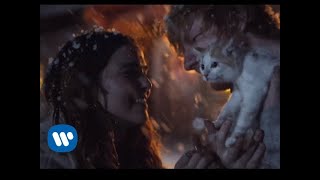 Win Tickets to See Ed Sheeran at the Rose Bowl
Ed Sheeran is back in Los Angeles, and your chance to see him perform is at the Rose Bowl in Pasadena on Saturday, Aug. 18. We are giving away complimentary tickets to the show. For a chance to enter to win, email us at
[email protected]
with "Ed Sheeran" in the subject line and tell us why you would like to go.