"MasterChef" Finalist Claudia Sandoval and Chef Merito Spice It Up at the New School of Cooking
Claudia Sandoval, a finalist on "MasterChef," showed off her skills using Chef Merito products.
"MasterChef" is a competitive cooking reality show that's in its sixth season on the Fox Television Network with the season finale set to air on Sept. 16. One of the four finalists is Mexican-American Claudia Sandoval, a single mother from La Mesa, Calif. who could be the first Latina to take home the coveted crown – or should I say chef's toque.
Due to her recent celebrity status, as well as being an inspirational member of the Latino community, Sandoval has joined forces with the Cuban-owned food company Chef Merito to help them promote their seasonings, spices and specialty foods for consumers of Latin American and Spanish foods.
As part of this campaign, a select group of local press, including Living Out Loud – Los Angeles, was invited to a cooking demonstration event on Sept. 3 held at the New School of Cooking in Culver City.
Things got cooking (pun intended) in the late morning when guests were invited to take a culinary class from Sandoval featuring her version of a traditional Tacos de Adobada. Using Chef Merito's Adobo para Carne Al Pastor product, some pork shoulder, lime juice and a hot skillet of olive oil, the group heated things up at the school's large kitchen to prepare the base for the tacos. Finishing up the delectable filling were thin slices of red onions marinated in lime juice sprinkled with salt and pepper – all to be garnished with radishes, squash blossoms and a special avocado crema.
Once everyone gobbled up the delectable feast, it was time to ask a few questions of Sandoval, which she responded to with the bubbly and charismatic personality that has made her one of the favorites on the show.
LOL: We hear that you like to dance, what type of music do you listen to when cooking?
CS: Yes I love to dance while I cook, especially Banda music. I love the song "Sopa de Caracol," which happens to be a song about food.
LOL: You specialize in Mexican cooking. Is there another type of cuisine you would like to explore?
CS: Yes, I've been exploring Italian recipes and even used some of them on the show.
LOL: Where do you see yourself in the next 10 years?
CS: I would like to own my own restaurant where I can continue to explore my talents as a chef.
To cap off the event, all attendees received a generous gift basket by Chef Merito full of their products along with a chef's hat, coat and apron with their logo. But the best gift of all was getting to know in person a rising star in the culinary world, the vivacious Claudia Sandoval, who might just be the winner this season of "MasterChef!"
"MasterChef" airs Wednesdays at 8 p.m. on Fox. For more information, visit fox.com/masterchef and chefmerito.com.
Video Slider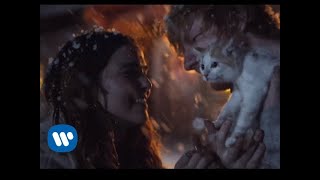 Win Tickets to See Ed Sheeran at the Rose Bowl
Ed Sheeran is back in Los Angeles, and your chance to see him perform is at the Rose Bowl in Pasadena on Saturday, Aug. 18. We are giving away complimentary tickets to the show. For a chance to enter to win, email us at
[email protected]
with "Ed Sheeran" in the subject line and tell us why you would like to go.