Manuel Garcia-Rulfo Discusses Role in The Magnificent Seven
Manuel Garcia-Rulfo as Vasquez in The Magnificent Seven. (Courtesy of Sony Pictures)
The Antoine Fuqua-directed, action-packed western The Magnificent Seven sports an all-star cast, including the talented Mexican bilingual actor Manuel Garcia-Rulfo.
Denzel Washington paves the way for The Magnificent Seven, but Garcia-Rulfo as Vasquez is quite the treat. Vasquez appears to be a foreign outlaw who has been on the run for several months, but Sam Chisolm (Washington) soon recruits him for an imminent gunfight against corrupt industrialist Bartholomew Bogue (Peter Sarsgaard), and much fun and action ensue.
Garcia-Rulfo assures us his work with Fuqua was rather fun.
"It was very, very, very cool working with him," Garcia-Rulfo says. "He gave me a lot of freedom as an actor to create my character. Since our initial talks, he told me 'Manuel, I want you to take the freedom you need to make it work for you.' He even allowed me to select my own guns for the role, how I wanted to dress, and he asked me if the lines I had in Spanish were OK with me or that I could alter them if need be."
The 35-year-old stud acknowledges his gratitude towards Fuqua.
"As an actor, you appreciate that type of director and the freedom," Garcia-Rulfo says. "So, it was a very cool experience working with him."
Throughout the film, Garcia-Rulfo displays his charisma in a catchy, yet stunning way. The character works for him, and he is perfect for it.
Vincent D'Onofrio, Martin Sensmeier, Ethan Hawke, Chris Pratt, Byung-hun Lee and Haley Bennett also star in The Magnificent Seven.
This year's The Magnificent Seven is a remake of the 1960 western film that carries the same name, but that was a remake of Seven Samurai (from Japan), which released in 1954.
"Both of those are marvelous films," Garcia-Rulfo says. "But I think that we ourselves made our own particular film. Each film is different in its own way. These are stories that will always be alive and will never die. People will see different concepts and different characters."
The Magnificent Seven is available on 4K Ultra HD™/Blu-ray™ Combo Pack, Blu-ray and DVD, and digital purchases.
Video Slider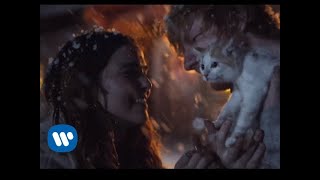 Win Tickets to See Ed Sheeran at the Rose Bowl
Ed Sheeran is back in Los Angeles, and your chance to see him perform is at the Rose Bowl in Pasadena on Saturday, Aug. 18. We are giving away complimentary tickets to the show. For a chance to enter to win, email us at
[email protected]
with "Ed Sheeran" in the subject line and tell us why you would like to go.