Make a Statement with DAZI Ties
DAZI ties are perfect for every occasion.
"http://lol-la.com/wp-content/uploads/2019/07/HB19_DIGITAL_BANNERS_NATALIALAFOURCADE_728x90_NOCTA.jpg">
"http://lol-la.com/wp-content/uploads/2019/05/MTH-190039-Feel-The-Fame-Remarketing-Banner-728X90.jpg">
Looking for great options for ties that will make a statement at any wedding, business venture or even prom? Check out DAZI, a company committed to helping you find great ties at low prices with amazing style.
These unique and quality skinny ties come in an array of prints like floral or vintage and are lined for a sleek look that will go with any fashionable coordinated outfit, depending on your mood. You can see their inspiration celebrated in the designs. We dig the statement designs on the Laguna and Blue Bloom, while also admiring the classic simplicity of Oceanside and Purple Static's solid colors.
Their inventory is innovative and is also expanding from their original tie brand. There are bowties for many occasions and matching socks, as well as wooden tie bars to add a subtle touch to your get-up.
In the bowties, we love the Ventura, Peach and Crew. We can just see these on dapper men during fun occasions like school dances, a night on the town, going to themed night clubs that delve into the vintage lifestyle and Dapper Day festivities at Disneyland and Disney's California Adventure where folks dress up retro for a day at the parks.
If you're currently putting together a budget wedding or Quince for the spring and summer, the tie and bowtie options are great for the gentlemen in your party. You can select from the various designs for an awesome bulk discount to use at your event. These colors would look great in weddings and celebrations during these upcoming seasons. And if you're just a tie enthusiast, DAZI just offers unique options that can make any outfit feel like they have a bit of your personality depending on which you pick.
For more inspiration and look books be sure to check out and follow DAZI online at daziusa.com and also follow them on Instagram: @DAZIUSA.
Video Slider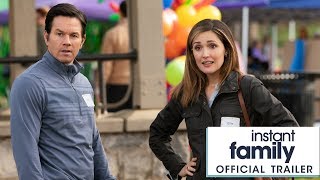 Win a Blu-ray + DVD + Digital Copy of Instant Family
Everyone everywhere can now enjoy Instant Family on Digital and on Blu-ray™ Combo Pack, and DVD on March 5 from Paramount Home Media Distribution. For a chance to enter to win at random, please email us at
[email protected]
with "Instant Family\" in the subject line and let us know why you\'d like to win a copy. This contest ends March 25, 2019.
"http://lol-la.com/wp-content/uploads/2019/07/HB19_DIGITAL_BANNERS_NATALIALAFOURCADE_728x90_NOCTA.jpg">
"http://lol-la.com/wp-content/uploads/2019/05/MTH-190039-Feel-The-Fame-Remarketing-Banner-728X90.jpg">