M. Night Shyamalan Reveals His Mischievous Side While Discussing The Visit
Director, writer and producer M. Night Shyamalan on the set of The Visit (Universal Pictures)
M. Night Shyamalan is notorious for his shocking twists, but the director of The Sixth Sense and the upcoming The Visit has yet another surprise that no one saw coming: He really wants to make something like Sex and the City.
"Everyone's offering me these scary, sci-fi type of things," he says, but something like his new horror comedy is more like the director's actual personality. The Visit, according to Shyamalan, is "a balance of who I am, the mischievous side."
When Shyamalan discusses making The Visit, a mock documentary about two children who visit their grandparents for the first time and discover that they are more frightening than they could ever expect, his sense of humor is apparent. When asked about meeting producer Jason Blum (best known for found-footage horror films like Paranormal Activity), Shyamalan deadpans: "We got over the awkwardness because we had sex. Twice," then launches into a riff about noting Blum's clothing.
"He was sitting there in my house, and he has a hole in his sweater. All I was fixated on was this hole. It means something," Shyamalan wonders, looking at a situation with the eye of a keen director.
Despite Blum's sartorial lapse, he and Shyamalan teamed up to make what should be the director's most critically successful film in years. Instead of relying on names like Will Smith or Mel Gibson, in The Visit Shyamalan cast two Australian children as the leads and two renowned stage actors as their grandparents. Working with children in major roles, as he did in The Sixth Sense, requires that Shyamalan bring a different skill set than when he directs adults.
"Making movies is an act of faith, and when I write these characters I just pray these people exist in this world. I'm not looking for a 12-year-old Daniel Day-Lewis who transforms from role to role," Shyamalan explains. "I'm looking for these kids who exist somewhere, and that's who they are in real life, and they're going to do a variation on that for me."
To do that, as Shyamalan did famously with Haley Joel Osment in The Sixth Sense and newcomers Olivia DeJonge and Ed Oxenbould in The Visit, he uses a collaborative style of directing that involves both the young actors and their parents. In one critical scene in The Visit, Shyamalan admits he did not have the right way to communicate to Oxenbould what he wanted from the scene.
"Sometimes there's a moment where I don't have the vocabulary to speak to the kid," Shyamalan says, "So I reshot the scene with the mom standing there. 'I'm going to talk to you, and you're going to talk to him.' But that's an emergency, pull the parachute kind of move that you can't pull too much, maybe once a movie."
While The Visit is funnier than most of Shyamalan's previous works, it still fits well within the director's genre movie experience. He conceived of the movie as a film about the fear of aging. According to Shyamalan, his favorite shot was the grandmother in the rocking chair, facing the wall. He took that shot from a sketch that Andrew Wyeth did of an elderly couple.
"She's just staring at the wall," he says. "I thought it was the scariest thing ever."
Shyamalan claims that the fear of getting old and dying is a "primal thing" and cites a study of abnormal psychology – the class where Shyamalan met his wife – as an inspiration for these thoughts.
Despite this, when Shyamalan thinks about his own grandparents, he remembers them more as comic figures than as tragic. His grandparents, whom he calls "classic Indian grandparents," included a grandmother who would put so much powder on her face that it was like Kabuki, while his grandfather would take his teeth, put them in a glass and try to scare the young child.
"So I tried to scare them when I was a little older, and now I feel bad about that," Shyamalan admits, calling both himself and his grandfather mischievous.
Mischievous is a compliment Shyamalan uses several times, and it is this quality that makes him feel an affinity for comedy. He may not have yet been offered a project like Sex and the City, but humor suits the director. If the next movie reveals that Kim Cattrall has really been dead the whole time, he will finally have realized this dream.
The Visit opens in theaters Sept. 11.
Video Slider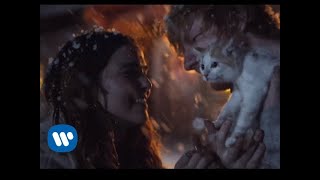 Win Tickets to See Ed Sheeran at the Rose Bowl
Ed Sheeran is back in Los Angeles, and your chance to see him perform is at the Rose Bowl in Pasadena on Saturday, Aug. 18. We are giving away complimentary tickets to the show. For a chance to enter to win, email us at
[email protected]
with "Ed Sheeran" in the subject line and tell us why you would like to go.