Los Tigres del Norte Headline "El Día Internacional de la Música Norteña" at Pico Rivera Sports Arena
Los Tigres del Norte (Courtesy Photo)
Los Tigres del Norte are set to headline the "El Día Internacional de la Música Norteña" festivities on Sunday, August 20, 2017 at Pico Rivera Sports Arena in Pico Rivera, Calif.
Doors will open at 1 p.m. And the music performances are scheduled to begin at 3 p.m.
Joining Los Tigres del Norte (LTDN) are Los Rieleros del Norte, Lalo Mora, Azabache, Brio Norteño and many more.
LTDN have been around since the late 1960s and became not only popular throughout Mexico, Central and South America, but also in the U.S. and the rest of the world. This norteño music ensemble features Jorge Hernández (director, lead vocals, accordion), Hernán Hernández (bass, vocals), Eduardo Hernández (accordion, saxophone, bajo sexto, vocals), Luis Hernández (bajo sexto, vocals) and Óscar Lara (drums).
A regular in Los Angeles, LTDN's songs connect well with tons of people. Tracks such as "Somos mas Americanos," "La Puerta Negra," "La Camioneta Gris" and "Mi Buena Suerte" are crowd favorites.
General admission tickets are $55, and VIP entries carry a price of $100. Pico Rivera Sports Arena is located at 11003 E. Rooks Road, Pico Rivera, CA, 90601. For more more information and/or to purchase tickets, visit www.seetickets.us.
Video Slider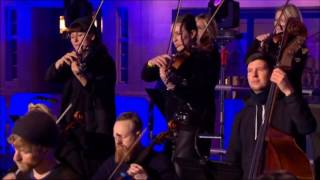 Win Tickets to See Pete Tong at Hollywood Bowl
Pete Tong is back in Los Angeles, and your chance to see him perform is at Hollywood Bowl on Thursday, Nov. 9. We are giving away complimentary tickets to the show. For a chance to enter to win, email us at
[email protected]
with "Pete Tong" in the subject line and tell us why you would like to go.