Los Angeles Times' the Taste Returns to Hollywood Labor Day Weekend
Look forward to Los Angeles Times' the Taste.
As summer is finally upon us, many planning minds are already jumping to Labor Day Weekend. Why would anyone be thinking about the end of summer before it has truly begun? Simple, three splendid days in September (the 1st-3rd), the Paramount Lot hosts the annual foodies dream, Los Angeles Times' the Taste!
L.A. Times' esteemed food critic Jonathan Gold hosts this annual event procuring a bevy of the hippest new and established restaurants in the L.A. area. Food and wine seminars, swag bags of delightful goodies and spirits galore all happen on the backlot of Paramount's New York City streets. Five events take place over the the days, including the kickoff on Friday night with an exclusive selection of tastings and wine pairings.
The opening event is followed by two very jam-packed days with two separate headlining events taking place each day. Field to Fork takes center stage on Saturday afternoon, where locally sourced food is the focus. Later that evening, Dinner with a Twist showcases some of Los Angeles' finest food and bar scenes. Sunday starts off with the Block Party. That's exactly what it feels like with people sharing and telling others to grab this morsel or grab that delicacy because it shouldn't be missed. People are happy and intoxicated on food. Phones are out, and photos are being uploaded and shared on every platform. The final evening concludes with Flavors of LA. This event gives you a tour of all the different types of cuisines that boasts of the city's culinary diversity.
You have the opportunity to eat and eat and eat, but one must remember to pace themselves. L.A. Times' the Taste allows the festival-goer to experience many restaurants that may be on their must-try bucket list. Little and large bites, desserts, beverage concoctions that smoke and food that flames are all some of the things that are experienced when attending.
All events are for adults only, 21 and older, because of the free-flowing libations, but it's a chance to surround yourself with the joys of food to close out the end of summer. Tickets are on sale now at extras.latimes.com/taste, so if you were wondering what to do for that one last summer hurrah, here is a surefire activity to go out with a bang.
Video Slider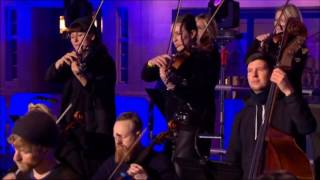 Win Tickets to See Pete Tong at Hollywood Bowl
Pete Tong is back in Los Angeles, and your chance to see him perform is at Hollywood Bowl on Thursday, Nov. 9. We are giving away complimentary tickets to the show. For a chance to enter to win, email us at
[email protected]
with "Pete Tong" in the subject line and tell us why you would like to go.