Los Angeles Says "Moshi Moshi" to Midori
The emerald of Beam Suntory's spirits portfolio exhibited its versatility at EP LP.
It doesn't matter if you are at a white tablecloth restaurant or Los Angeles' most exclusive nightclub – Midori Melon Liqueur is behind the bar. The melon cordial has experienced an interesting evolution since it was launched in 1978 at Studio 54 in New York City. While Suntory is known for a diverse whiskey portfolio, Midori is one of the company's most impactful brands.
The brand recently launched its "Say Moshi Moshi to Midori" campaign at an elaborate cocktail party at EP LP in West Hollywood. Paul Zahn hosted the event with a cocktail lab manned by Midori's Global Brand Ambassador, Manuel Terron.
"Midori is a timeless brand that is so diverse. It mixes well with so many different spirits – from tequila to vodka to whiskey. You really can make a cocktail to please everyone's palette," said Zahn.
Guests were given the opportunity to approach Terron at his cocktail lab. He created a signature cocktail based on a variety of ingredients. The lab had everything from beet juice to jasmine syrup to mezcal – no stone was left unturned. The crowd was quite impressed by the sumptuous cocktails.
"Another interesting component that drew me to Midori was its rich Japanese heritage. Melons are such an important fruit within the Japanese culture. And this ties into our new campaign of engaging our consumers to say 'Moshi, Moshi' to Midori," explained Zahn. 'Moshi, Moshi' means 'Hello' in Japanese. The new campaign utilizes a fluorescent light creative that has a vintage feel.
EP LP hosted the special soiree. The multi-level complex is one of Los Angeles' most sought after hospitality outlets. Alex Straus, EP LP's resident mixologist, even created an EP LP-inspired cocktail for the party. If this event is any indication of the new look and feel of Midori – we definitely will continue to say "Moshi Moshi" to this delicious melon liqueur.
Video Slider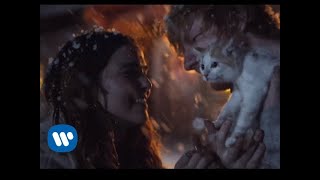 Win Tickets to See Ed Sheeran at the Rose Bowl
Ed Sheeran is back in Los Angeles, and your chance to see him perform is at the Rose Bowl in Pasadena on Saturday, Aug. 18. We are giving away complimentary tickets to the show. For a chance to enter to win, email us at
[email protected]
with "Ed Sheeran" in the subject line and tell us why you would like to go.