Las Vegas Walk of Stars Immortalizes Roberto Tapia
Regional Mexican singer Roberto Tapia received a star from the Las Vegas Walk of Stars.
Regional Mexican singer Roberto Tapia joined the list of celebrities in posterity, after receiving a star at the Las Vegas Walk of Stars. His solid career and the support he receives from his followers makes him worthy of such an honor.
The star-presenting ceremony took place this past Wednesday, Nov. 18, at the Gordie Brown Showroom inside the Golden Nugget Hotel & Casino. The star is to be embedded on the Las Vegas Strip, the most exclusive area in the city, right in front of the iconic Eiffel Tower replica.
There were many members of the international media present at the event, as well as Pablo Antonio Castro Zavala, vice president and co-founder of the Walk of Stars, and Tapia's parents, grandparents and other special guests.
The directors talked about why Tapia was worthy of receiving such recognition, stating he is one of the most representative artists of the regional Mexican genre. They added points about the solid career he already has although he has only been in the game for a short period of time, his 12 albums and, of course, the great love and support the public has for him, which was key in making this happen.
In a very emotional moment that was full of tears and expressions of love, Tapia's parents and grandparents said how proud they were of their son and grandson, whom they never though would get so far in life but has always been driven towards achievement.
Tapia continued with his speech, where he talked about what it meant for him to receive the star, just like all the other great artists who have in the past, such as Juan Gabriel, Vicente Fernández, Luis Miguel, Ana Gabriel, José José, Banda el Recodo, Gloria Estefan, Emilio Estefan, Elvis Presley, Frank Sinatra, Jenni Rivera and Los Tigres del Norte.
"I really appreciate, definitely and firstly, God, who is allowing us to be gathered here," he said. "I also want to dedicate this to my family, mainly because they were and have been here with me since the beginning; my daughters who are the ones who suffer from my absence in this career; the public who without a doubt are the bosses, in charge; and the ones who make these kinds of awards possible and come to life."
He said that he never imagined everything he is living today, nor the way they presented the star to him. He also added thanks to his parents and grandparents for his upbringing.
"They would ask me how I felt being awarded the star here in Las Vegas, and of course it's something that I had never imagined in my life. Nowadays, I'm living these emotions firsthand. I didn't know anything about the ceremony, all I knew was what I was going to be receiving, but not the way that I was going to be receiving it," he said. "Like I have said before, I want to thank my family for being a part of this. I am not Roberto Tapia, they are the ones who have made Roberto Tapia."
He revealed that he suffered with academics as a kid. He had no interest in being a musician or singer, and hated those activities. Soccer on the other hand, was a different story.
"When I started to study as a kid, I wanted to be a soccer player. and it was a dream of mine to be out on the soccer field. But thank God that I didn't dedicate myself to soccer because otherwise I would have kicked rocks," he laughed, "My papa, who is my grandfather, had this vision that I never had. He put me in music school, and I remember going and crying Monday through Friday in elementary school, with my clarinet and my five pesos for the bus. I would leave crying, and once I got to music school, the anger would go away. At the age of 19, they advanced me to La Banda Sinfónica del Estado de Sinaloa where was I was awarded a scholarship. That's where the dream of Roberto Carlos Ayala Tapia started, that kid who lived and continues to live in the same colony with all of his people and doesn't forget about his roots."
For more information on Roberto Tapia, visit universalmusica.com/robertotapia.
Karen Cruz contributed to this story.
Video Slider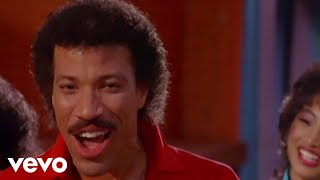 Win Tickets to See Lionel Richie at Hollywood Bowl
Lionel Richie is performing with very special guest Mariah Carey on the All the Hits Tour, and your chance to see them is at the Hollywood Bowl on Monday, July 31.