Lary Over Discusses Upcoming Show in Los Angeles
Lary Over in Los Angeles (Marvin Vasquez / LOL-LA)
Having just performed for a sold-out crowd of 15,000 people earlier this month and with the release of El Wason BB months ago, Lary Over is quickly taking over the music scene with his new style of Trap Latino.
Performing at the Microsoft Theater on June 30th, Over shows no signs of slowing down in his journey to share his music with fans.
The newest album, El Wason BB, features 14 songs and includes collaborations with Jon Z, Farruko, Zion & Lennox, Rvssian, Brytiago and additional artists.
When it comes to the sudden growth and interest in the genre, Over said, "I think it's something that was unplanned, I think it's the fans that chose this music and it's because of them that this genre is alive and it keeps growing."
"We as artists do our part by making music that they'll enjoy," he continued.
While he's best known for his contributions to the Trap Latino scene, Over has managed to balance his sound and take influences from other genres.
"I've been really grateful to be able to be able to do different genres of music and I think that's the biggest thing that sets me apart as an artist," he said.
"It has been a challenge from time to time but its something I do, I don't like to limit myself."
Over is currently touring with Puerto-Rican singer-songwriter, Farruko and said, "Everything has been great!"
"I feel like this time around my experience is very different from the first one. This time around I feel like it's more Americanized. I want my fans to know that every time we perform it's very different and even when we write, we write in different locations," Over said.
As for what fans can expect from the Saturday's show, Over said, "It's going to be great! The lights and audio is all high quality and I plan on giving my best performance."
"I want my fans to enjoy the show and have fun!"
When speaking of what the City of Angels means to him, Over said L.A. has always supported him.
"It's the capital of music and started many trends," he said. "It's a city with many Latin groups, Mexican, Guatemalan, Honduran and it's really nice to see them come together and support me and my music."
As for any words of advice the artist may have for aspiring musicians, the star mentioned the unfortunate passing of XXXTENTACION.
"I feel like young people need to find something that they're passionate about, whether it's painting art, music or whatever," he said.
"I feel like our young generation is losing themselves. I had the opportunity to chase my dreams at a young age, but I also want to say to not lose faith or hope in your dreams simply because you're disabled or have an illness, or because of financial struggles, or mom/ dad issues."
He continued on to say, "I think they should take that negativity and turn it into something positive."
"At this point in age, I don't think there's an excuse to not chase your dream. There are way too many opportunities in this world to not try."
Fans of Over can catch him live on Saturday, June 30 at the Microsoft Theater in L.A. at 8 p.m.
Tickets start at $25 and can be purchased at www.axs.com.
Marvin Vasquez and Joelly Vazquez contributed to this story.
Video Slider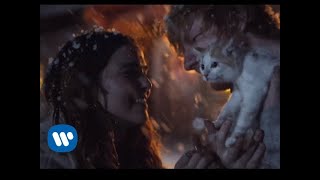 Win Tickets to See Ed Sheeran at the Rose Bowl
Ed Sheeran is back in Los Angeles, and your chance to see him perform is at the Rose Bowl in Pasadena on Saturday, Aug. 18. We are giving away complimentary tickets to the show. For a chance to enter to win, email us at
[email protected]
with "Ed Sheeran" in the subject line and tell us why you would like to go.