Larry Hernandez Discusses NBC Universo's "Larrymania"
(Larry Hernandez / NBC Universo)
The wildly popular "Larrymania" is coming to an end, and can be watched exclusively on NBC Universo.
The reality show chronicles the life and times of Mexican music artist Larry Hernandez and his family, both professionally and personally, giving the audience a candid peek into the intimate aspects of their day-to-day lives.
"Larrymania" has transcended U.S. borders, and can be seen in Mexico, Venezuela, and the Dominican Republic among others.
In an exclusive with lol-la.com, Hernandez discusses his experiences with the show, expectations, and how it came about.
"'Larrymania' came about after an album I recorded, and after 2 years decided to accept the project. A friend of mine said I should be in a reality show, to which I said, 'Me? A reality show? You're insane!' And yet, here we are," he says.
"I was weary at first because I didn't have any experience. I wasn't scared, I had just never been in front of a camera in that way. The show is partly scripted so it wasn't as difficult as I expected," he adds.
The show has grown by leaps and bounds in its 4 seasons, and Hernandez has become more and more comfortable with his persona and has taken the reins of the show.
This past season, the family traveled all over the world, and the season ended in Hawaii with a particularly emotive episode involving his kids and the sensitivity he has about the subject.
"It's particularly challenging when I interact with my kids. They will out of nowhere ask me very random, delicate questions I would have never imagined they would ask, but the cameras are rolling so what am I gonna do? I can't tell them to stop filming, so I just have to answer as best I can, my way, while trying to be a good father. They love being a part of it," he says.
"Whenever the show is aired on TV, they stay glued to the set. They also watch other programming on NBC, so they always know when it'll be on. It's like a family album, except it's not just pictures but a full story. In the future, it will be great to be able to look back and see a chronicle of my life, as well as the growth of my children."
Hernandez also says that while the show is meant to be fun and entertaining, the most important thing is that it must be as genuine as possible.
"I get so many ideas, and like to fool around, so I think people can differentiate what's scripted and what's not. It's all based on real life and real events, and that was something I always wanted and made very clear to the network when we first started," he says.
"Larrymania" will be back for a 5th season, and Hernandez has also entertained the idea of acting in a film or soap. Musically, he is currently promoting his latest album Vete Acostumbrando, which has 22 tracks, mainly romantic in theme with mariachi.
The fourth season finale of "Larrymania" will air on September 20 at 9 p.m. on NBC Universo.
Video Slider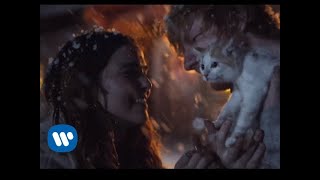 Win Tickets to See Ed Sheeran at the Rose Bowl
Ed Sheeran is back in Los Angeles, and your chance to see him perform is at the Rose Bowl in Pasadena on Saturday, Aug. 18. We are giving away complimentary tickets to the show. For a chance to enter to win, email us at
[email protected]
with "Ed Sheeran" in the subject line and tell us why you would like to go.