Review: LA Opera's Production of "Rigoletto" is a Work of Art Onstage
Arturo Chacon-Cruz as the Duke of Mantua and Juan Jesus Rodriguez as Rigoletto in LA Opera's 2018 production of "Rigoletto". (Ken Howard / LA Opera)
Italian composer Giuseppe Verdi's opera "Rigoletto" is considered to be one of his greatest masterpieces and was written during his middle to late creative period when it premiered in the Teatro La Fenice, located in Venice, Italy on March 11, 1851. With a libretto by Francesco Maria Piave, it was based on the play "Le Roi s'amuse / The King Amuses" himself by legendary French writer Victor Hugo of "Les Misérables" and "The Hunchback of Notre-Dame" fame.
Because the original play by Hugo was banned in France 20 years earlier (it was deemed too scandalous), it pose a dilemma for Verdi & Piave with the Austrian censors who controlled the theaters in northern Italy at the time. So instead of making the villain a French king during the 16th century, they decided to make him The Duke of Mantua after a small city in central/northern Italy an called it Rigoletto instead.
Los Angeles Opera's current production of "Rigoletto" which runs till Saturday, June 3 (with the second ensemble), adds another layer of Italian art to this opera warhorse by presenting a colorful, abstract production, first seen at San Francisco Opera in 2006. The stage design by Michael Yeargan gets inspiration from the late Italian artist Giorgio de Chirico, who was one of the precursors of the Surrealist art movement of the early 20th century, with outstanding lighting by Robert Wierzel and gorgeous, detailed period style costumes by Constance Hoffman.
The storyline centers around a sharp tongued, disfigured, hunchbacked jester by the name of Rigoletto (Spanish baritone, Juan Jesús Rodríguez), who is the main entertainer for the court of the promiscuous, arrogant Duke of Mantua (Mexican tenor, Arturo Chacón-Cruz). In these highbrow circles, the jester is tolerated but not liked by the courtiers, who are often the target of his wicked, direct humor and who would love nothing more than to get revenge on him. The Duke on the other hand, is relentless in his pursuit of hedonistic pleasures, caring little about which female he wants to pursue, and that includes any of the wives and daughters who make up his court as well as a beautiful, young woman he spotted at church.
During one of the lavish balls, the elderly Count Monterone enters in a rage as he has learned that his daughter was seduced by The Duke and has come to avenge her honor. The guards quickly arrest him and Rigoletto, wasting no time, mocks the old man's state of helplessness. Prior to being led off, Monterone curses the jester for having made fun of his predicament, which terrifies Rigoletto, who believes in the superstition that a curse by and old man will come true.
As he heads home from the festivities, Rigoletto is approached on the street by the assassin for hire Sparafucile, played masterfully by the imposing, African-American bass Morris Robinson, whose thunderous, deep, rich voice seemed to shake the whole stage. The jester passes on the offer but ponders on the similarities in both their "professions" as he enters his very private abode hidden behind a non-descript wall. He is soon greeted by his daughter Gilda, played by the beautiful and talented Cuban-American soprano Lisette Oropesa, who is only allowed out of the home with a companion and limited to certain outings, like going to church. Together they sing the lovely and tender aria "Figlia!" "Mio padre" / "Daughter!" "My father!", highlighted by Oropesa's gorgeous high notes, like a delicate bird held in a cage, as they reminisce about the mother / wife that they both lost.
No sooner does Rigoletto leaves the location, that we get a glimpse of The Duke spying on the conversation between Gilda and her caretaker / nurse Giovanna (contralto, Sharmay Musacchio), as she confides to her about a young man she has fallen in love with at first sight, but has failed to mentioned it to her father. No sooner has she uttered those words that The Duke enters the house (he has bribed Giovanna) and pretends he is just a poor student while professing his love to her, but alas, he does not give her his name as he departs.
This is not the first time that Oropesa and Chacón-Cruz have portrayed the young, love-struck lovers at an LA Opera production, for in 2014 they played similar roles in the Spanish language opera "Florencia en el Amazonas" by the late Mexican composer Daniel Catan. Both of these rising opera stars come from a Latin American background and it shows in their passionate portrayals, combined with a natural chemistry between them that comes from having similar cultural ties and shared stage history. Oropesa's rendition of the iconic and very difficult aria "Caro Nome" / "Dear Name" was astounding, as she reached sky high, crystalline notes even during her pianissimo segments while portraying Gilda with a girlish, ingénue demeanor. As the cad Duke of Mantua, Chacón-Cruz has the movie-star looks and smoldering stage presence that wowed the audience during the most famous aria of the opera "La donna è mobile" / "Woman is fickle" that takes place in the third act. His rich, tenor voice was strong, well projected and held a substantial amount of time.
In the role of Rigoletto, Spanish baritone Juan Jesús Rodríguez gives a tour-de-force performance as the court jester who is consumed by rage and vengeance due to his fate, social status and nature, while at the same time showing a tender side towards his daughter. His rendition of the aria "Cortigianni, vil razza," / "Courtiers, vile rabble" was a show stopper in vocal power and acting ability as he humbles himself in front of the courtiers who have gotten their long desired revenge on him.
Verdi's gorgeous music was in the good hands, and baton, of the young, American conductor Matthew Aucoin who kept the always wonderful LA Opera Orchestra at a perfect level of sound that highlighted the singers while providing the musical context for the evening. Director Mark Lamos kept the action moving briskly while providing some excellent comedic moments with the "Commedia dell'arte" actors and suspenseful moments that fitted well with the de Chirico, stage aesthetics. The totally excellent LA Opera Chorus under the direction of maestro Grant Gershon provided the glue that held all the musical elements together, as usual.
Video Slider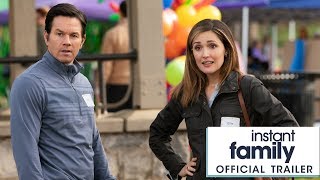 Win a Blu-ray + DVD + Digital Copy of Instant Family
Everyone everywhere can now enjoy Instant Family on Digital and on Blu-ray™ Combo Pack, and DVD on March 5 from Paramount Home Media Distribution. For a chance to enter to win at random, please email us at
[email protected]
with "Instant Family\" in the subject line and let us know why you\'d like to win a copy. This contest ends March 25, 2019.