LA Opera's "Falstaff" and Its Foodie Crew
(l-right) Ronnita Nicole Miller as Mistress Quickly, Ekaterina Sadovnikova as Nannetta, Carmen Giannattasio as Alice Ford, Erica Brookhyser as Meg Page in "Falstaff." (LA Opera/Robert Millard)
"Do you have cookies in your pockets right now?" Director of Communications Gary Murphy asked mezzo-soprano Ronnita Nicole Miller.
"I don't have cookies yet," she laughed, showing the empty pockets of her Mistress Quickly costume as if he wouldn't believe her otherwise.
This Saturday, November 9, you can see her on stage playing one of the food-fixated characters of Giuseppe Verdi's "Falstaff," which LA Opera's bringing to Dorothy Chandler Pavilion. On Tuesday afternoon, the company invited the press for a backstage tour of the production, showcasing, in particular, the long and careful preparation of the food to be displayed on stage.
"There's food all over the show," Director Lee Blakeley said. The titular character, Falstaff, a drunkard and a womanizer, is based from Shakespeare's "Henry IV" and "The Merry Wives of Windsor." In Act 2 Scene 1, a turkey appears, an upper class status marker back in the Bard's era. The rotund Falstaff uses it as barter to get what he wants, and hands out turkey legs to appear "classier" than he actually is.
Prop master Allen Tate prepares the turkey for each show. The recipe is a "secret," he said, although up close, the 10-pound turkey doesn't look too appetizing. A leg, which Falstaff picks up on stage, is pre-cut and pre-munched on.
Carmen Giannttasio, who plays the wealthy Mistress Alice Ford, made an appearance to talk about her food blogging background. Before walking back to her dressing room, she managed to ask for restaurant recommendations in Los Angeles. So far, she's enjoyed Rivera in Hollywood and Sushi-Gen in downtown LA.
But Blakeley was not to be outdone by his food-obsessed crew. "I've asked for a specific cake to be used as prop," he said. "The Parkin cake, a specialty of where I'm from in Yorkshire." It just so happened that it was Bonfire Night in England this particular day, when it's tradition to eat the oat and molasses-filled pastry. He'll be enjoying it after two sets of rehearsals tonight, one from 3 to 6 p.m. and another from 7:30 to 9:30 p.m.
Finally, Music Director James Conlon, dressed in all black, spoke just before the 3 p.m. call. He talked about conducting "Falstaff" in New York at 22 years old, his first paying conductor gig, straight out of Julliard School. Sharp, witty and commanding, he's just the type of guy that could take charge of his orchestra with a single look.
However, he said, "Just don't ask me about the food."
————————————————————————
"Falstaff"
Saturday, November 9 at 7:30 p.m.
Wednesday, November 13 at 7:30 p.m.
Saturday, November 16 at 7:30 p.m.
Thursday, November 21 at 7:30 p.m.
Sunday, November 24 at 2 p.m.
Sunday, December 1 at 2 p.m.
Dorothy Chandler Pavilion
135 N. Grand Ave.
Los Angeles, CA 90012
(213) 972-8001
www.laopera.org
Video Slider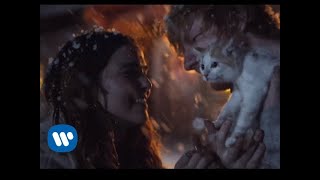 Win Tickets to See Ed Sheeran at the Rose Bowl
Ed Sheeran is back in Los Angeles, and your chance to see him perform is at the Rose Bowl in Pasadena on Saturday, Aug. 18. We are giving away complimentary tickets to the show. For a chance to enter to win, email us at
[email protected]
with "Ed Sheeran" in the subject line and tell us why you would like to go.