La Ley Is Back with Adaptación
Mauricio Clavería, Beto Cuevas and Pedro Frugone of La Ley
It seems like the Latin rock gods have finally answered our prayers. La Ley is back, and their music is better than ever.
After a period of 13 years since the Chilean band's last studio effort (Libertad), La Ley has reunited to produce a new album titled Adaptación (what might be their best album) that will be released in April. The album features an all-new sound, with 12 new songs (plus two bonus tracks) to rock out to. With a cool new music video and amazing new single ("Ya No Estas"), La Ley is ready to take the world by storm.
Living Out Loud – Los Angeles had the chance to interview La Ley lead singer Beto Cuevas, who spoke about La Ley's evolution throughout the years, their new single and what they have in store for this upcoming year. Read below to get the full story and all of the insider exclusives.
LOL-LA: How can you describe the musical evolution of La Ley?
Beto Cuevas: That's a really good question, because I haven't made that analysis yet. I think that since our first stages as a band, from 1989-'93, we always had the idea of making distinct albums, of course all while maintaining an essence and sound that characterized us. We never tried to imitate, emulate or repeat a formula, no matter how much it had worked for us in the past. I think that's what allowed us to grow and maintain a lot of enthusiasm, in respect to what we do. When you keep doing the same thing because it's worked for you in the past, one way or another you start to betray your essence and the spirit of your music. You start making dead music that may work on the radio and might be good business, but in terms of what it means to be an artist, it's like being a zombie. I think that our evolution has settled precisely on the fact that we do recognize a style or sound, but always try to do new things. Such is the case with our new album, which we are launching this April titled Adaptación, which is an album that maintains that essence, but is an album that sounds like La Ley in 2016, and it doesn't emulate anything we've done in the past.
LOL-LA: What is it that inspired the new single, "Ya No Estas?"
B.C.: I am a firm believer that songs don't come with instructions, and I think what interests me the most is for the people to integrate the songs into their own lives, and to hopefully talk about people's lives. There is always something about my own personal life through the lyrics that I write. In this case, it talks about the fact that things aren't always how people want. Sometimes you want to be with someone or you like someone a lot, and that person doesn't correspond to you with that same love and simply disappears. Sometimes the one who takes on that position is you with that someone, so, that's more or less what it's about.
LOL-LA: How was it working with Carlos Huerta on the music video for "Ya No Estas?"
B.C.: It was such a great experience! We received many music video proposals. I'm usually very involved in the production of the videos, and I've directed many. I simply didn't have the time to do it this time because of all we were doing, like preparing for a tour. We decided to receive music video proposals instead, and Carlos Huerta's proposal was the one we liked best in terms of aesthetics. It was a pleasure working with him. He is a very professional person, and has a great team. The way he manages aesthetics is very good, and he does a good job at coordinating with the aesthetics that we propose.
LOL-LA: What was Carlos' concept for the music video?
B.C.: The concept was based on the notion that sometimes someone is there, and then they're gone. We wanted people to see us in 2016 because originally, we had thought about making a video where we didn't come out at all, which is something we have never done before. But we then felt that since this is the first original album we've made in 13 years, it was important for people to see us over time but also see us directly on stage. So the concept was to showcase ourselves in that circumstance but to also not take ourselves too seriously and instead be a little more chill. In fact, that's where the proposal to do the little dance number came about, which was very fun for us. We had a really good time.
LOL-LA: Speaking of that little dance number, how long did it take you guys to learn the dance steps?
B.C.: (Laughs) It would seem like a lot, but no. We hired a Chilean choreographer the same day we made the music video. He made up the choreography, and it was perfectly timed with that part of the song, so we rehearsed the steps at the hotel. We're musicians, we're used to memorizing music and such, so it wasn't too difficult. It was a really fun and great experience, and hopefully at some point, we'll get to do it at a concert.
LOL-LA: You guys composed 35 songs, but only chose 12 for the album. How and why did you choose those 12 songs?
B.C.: The selection of the songs that we chose were 14, twelve that are on the album and two bonus ones. The songs that ended up being on the album were no brainers and obvious, although I must recognize that there were a lot of songs that we feel we could even use for a future album. The selection of those songs was based on the fact that they are very distinct, because we wanted to make an album that was very eclectic and very contrasting. Not an album where you listen to three or four songs and they all sound the same. We wanted it to be a journey and a musical experience when listening from the first to the last song.
LOL-LA: La Ley has done a few songs in English before. Are you planning on making a bilingual album or any other projects in English?
B.C.: It was never anything foreign to us, singing songs in English and in French even. We've always used those languages, and as a songwriter, I've used them simply because they're languages that I write in, know and speak. So, it's really just a different form of expression. Also, to me, knowing three languages and not using them is kind of like limiting myself. The majority of the songs on Adaptación are in Spanish, but there are a few songs in English such as one called "Child" and another called "Soul Surfer." There is another one that I had originally written in English called "War of Love," which I made a Spanish version of called "Guerra de Amor," and it came out beautifully. It's the only one that I adapted to Spanish because it came out really well, and you can't always accomplish that. There was a lot of talk from the company to write the English songs in Spanish, but I thought they lost the essence to the origins of the song. We don't really have any plans of making an English or bilingual album. We simply just have the plan of continuing to make good music.
LOL-LA: Social media is very big nowadays. How involved are you guys with social media, and how important is it to you?
B.C.: We are totally involved with it, in every aspect it entails. I think that it's very important for us to be involved in it. It's a new and direct way of communicating with fans. So we are completely involved with it, and we're always open to opinions, pictures, artistic content, and we're always trying to generate that connection. As an artist, having social media allows you to share your state of mind and moods with your fans. It also creates channels of entertainment. That all seems very interesting to me, the way that things are unfolding with artists, with that channel that tells you what a fan likes and doesn't like. At the same time, it's also very important to remove yourself from it for a moment when it comes to creating your music because we're not bureaucrats when it comes to music. In the end, we're artists and we don't do what people want us to do, we do what we want to do. People may or may not like it, but we also have to be careful with that because one can't rely too much on market results.
LOL-LA: The people from Los Angeles admire you guys very much and love and support you. What does Los Angeles and its people mean to you?
B.C.: I'm going to speak in first person for this. I've lived in this city for the past 14 years, and it's a city that's given me a lot. It's given me the freedom of living like a normal person, because I live in a city where there are tons of famous people, from the music industry and cinema, where you don't necessarily suffer from the harassment that you sometimes get from fans. It also symbolizes diversity, and I think I can speak for the group when I say this. We live in a city that we love to explore and we get a lot of inspiration from, and that one way or another, has been instrumental in our development as artists.
LOL-LA: What else do you have on your agenda this year?
B.C.: I can tell you now that this year is going to be a hectic year, fortunately, which we love. At this moment, we are in the midst of a 23-city tour in Chile, where we're not only reencountering ourselves with our fans from Chile, but we're also taking advantage of trying out five new songs from Adaptación which is coming out in April. We're going to start the U.S. tour, which is going to be really good. They're going to catch us at a really good moment. We're starting the U.S. tour off at the end of April at the Greek Theatre in Los Angeles, and from there we start the first part of the tour which consists of 18 cities. We're then going to Mexico to work, and the second part of the tour will be starting in August/ September. It's going to be a year full of shows in Latin America. We're organizing a tour in Argentina, Canada, we're going back to Colombia, Mexico, and we also have a few projects in Australia and Europe. So it's going to be a very busy year, we're gong to play more than 100 times, and that is very gratifying to those of us who dedicate ourselves to this business.
LOL-LA: How do you feel about coming back to the Greek Theatre?
B.C.: We've played there many times, in fact I believe it would be our seventh time playing there. We feel really good about it, we love playing there because it's a good place for acoustics, and the people who go see us can watch a really great show. It's in a marvelous place, Griffith Park, and we always have a really good connection with our fans whenever we play there. So we're very happy to go back to the Greek, and we hope that the tour in general is as successful as the start of it.
LOL-LA: How different will this tour be compared to the previous ones?
B.C.: The main difference will be that we're back with a new album. So not only will we be playing songs that symbolize our career, but we're also going to be showing our new musical face, which is the Adaptacion album. It's an album we took over a year in making, and it's one of the best albums we've made. So the difference is musical, and well, us too: We have more and more experience the more we play. We're able to do what we do better, so we want to share that joy in life of playing on stage again.
LOL-LA: Is there anything else you want your fans to know?
B.C.: First off, we'd like to say thank you so much for waiting such a long time after being separated as a group. Thank you to the fans for bringing their children and the new generation; there are a lot of young people who like the music, and the band's new sound. So thank you for the company and allowing us to evolve and become the people we are nowadays, because we would have never been able to achieve any of it without their support.
La Ley's new album, Adaptación, will be released in April. La Ley perform April 23 at the Greek Theatre. For more information, visit laleysite.com.
Video Slider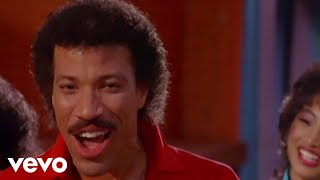 Win Tickets to See Lionel Richie at Hollywood Bowl
Lionel Richie is performing with very special guest Mariah Carey on the All the Hits Tour, and your chance to see them is at the Hollywood Bowl on Monday, July 31.