La Cuneta Son Machin: A Proud, Grammy-Nominated Nicaraguan Band
La Cuneta Son Machin's Mondongo is nominated for the Best Latin Rock, Urban or Alternative Album Grammy.
Nicaraguan band La Cuneta Son Machin puts Central America in the spotlight after surprisingly being nominated for a Grammy Award. In the 58th edition of the Grammys, the band was nominated for Best Latin Rock, Urban or Alternative Album for their latest release, Mondongo.
The proud members of La Cuenta Son Machin are recognized for their hyper-cumbia style, which they refer to as 'chinamo rock' (a fusion of rock and cumbia). Nicaragua has adopted some of the Colombian cumbia. From there, they have generated a variation of it called chinamera music, which is heard in the taverns of the neighborhoods in their country.
In an interview with Living Out Loud – Los Angeles, Carlos Luis Mejía (marimba, timbales) shares that the Grammy nomination was not expected, that the album wasn't made with that intention, though they were looking for a product of the best quality.
"We had no idea about the possibilities of being nominated; we hadn't even realized it. All of a sudden, we found out the nomination existed, and we were among other bands like Bomba Estereo and Natalia Lafourcade. They're musicians whom we admire, and it's been a surprise," he says. "This not only counts for the band and for Nicaragua, but also for all of Central America, which we've understood as the first band being nominated for an American Grammy."
The marimba player also states that Mondongo is an album very distinct to their older work, since they sought to record outside of Nicaragua in search of better quality – something that was a great learning experience for each member of the band.
"We had been wanting to take that step in the way we've worked on our albums for about two years. We wanted to do so in a very distinct way, gearing towards better quality. We made it without any intentions of being nominated, but with the intention of bettering the way we worked every time. Even though we don't all compose, we created workshops because we're all part of the musical process when it comes time to record and produce."
What the band considers most valuable, was the fact that they were nominated whilst still having their base in Nicaragua, and that living in their country, they had to travel abroad to record their album. They also say that even though an award isn't everything, it's worth taking into account because they got the Academy's attention, even with their own resources, and said Nicaragua and Central America are present.
But what does "La Cuenta Son Machin" mean? Mejía says that it's a ditch on the edge of the streets in their county, and in those ditches and streets develops the culture, especially that of Nicaragua.
"We retook that concept because what we initially started playing is the music that you hear in all of the popular parties in Nicaragua. It's like the soundtrack of our culture, and 'Son Machin' is a parody to the group Miami Sound Machine, as a Nicaraguan who doesn't speak English would say."
On the other hand, Mondongo is the name of the album, and it follows that same line of showing the culture and richness of Nicaragua. It's a reflection told through their songs.
"That's why it's called [Mondongo], because we each have distinct musical proposals, distinct influences and each of us has distinct tastes, which is all projected in this album, as a mondongo soup."
Media, Ernesto "Matute" López (drums), Augusto Mejía (bass), Omar Suazo (guitar), César Rodríguez (teclados) and Carlos Guillen (vocals) have known each other for more than 15 years, playing informally as a band, with a common bond that is music. They have been integrated as a band for six years and have traveled all of Central America. Today, they've managed to take the leap into internationalism through an unexpected nomination that means a great big step in their career. Especially while providing such recognition to all of the countries in Central America, that like they themselves say, all have something in common.
La Cuneta Son Machin will attend the Grammy Awards on Feb. 15 (airing at 5 p.m. on CBS) and will also perform a concert at the Roxy Theatre in West Hollywood Feb. 16, at which they will be giving a physical copy of their album to all who attend. Tickets are available at ticketfly.com. For more information, visit lacunetasonmachin.com.
Karen Cruz contributed to this story.
Video Slider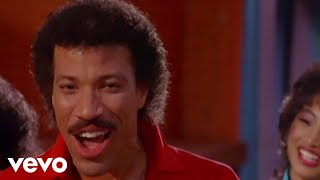 Win Tickets to See Lionel Richie at Hollywood Bowl
Lionel Richie is performing with very special guest Mariah Carey on the All the Hits Tour, and your chance to see them is at the Hollywood Bowl on Monday, July 31.