L.A. Reign's Kristan Clever Sets Out to Dominate National Pro Grid League
Kristan Clever uses her CrossFit competition skills to work hard in a Grid match for the L.A. Reign. (LA Reign)
With the exception of football, Los Angeles is home to some of the greatest professional sports organizations in the world. The newest team is the Los Angeles Reign, which is a part of the National Pro Grid League (NPGL) – the first co-ed professional sports league.
On the team is L.A. native Kristan Clever, who has dominated the sport of CrossFit since she picked it up back in 2007. Since then, the 33-year-old that stands at 5-feet 2-inches and weighs 130 pounds has taken five first-place medals, one of them at CrossFit Games in 2010.
"I don't think it ever quite sunk in," Clever says of her 2010 title of Fittest Woman on Earth. "It was amazing. It does make you think that you must have something and are good in some respect."
After her fourth-place finish at CrossFit games 2009, Clever strived for perfection and stood not only on the highest step on the podium but also stood on top of the world as she became the Fittest Woman on Earth the following year. From 2009 to 2012 she did not fall off her A-game, respectively placing within the top five spots in the CrossFit competition.
"Having been in competitive exercising, it gives me the confidence to do well for myself and to also encourage others on my team," she says.
However, in 2013 it seemed like the CrossFit gods were against Clever and tried to push her off the impressive streak of finishes she had accumulated for five years. Dealing with an agonizing pain in her shoulders she battled through, finished the competition in 32nd place and was rewarded with the Spirit of the Games Award for her endeavor.

Unfortunately for the seven other teams in the NPGL, the warrior that is the L.A. Reign's Kristan Clever is against them.
NPGL, or the "Grid," is the competition that professional athletes have ruthlessly searched for as "the next big thing" that will undoubtedly place them in the history books and revolutionize sports forever. The sport takes what we once thought was an athlete and puts the beast through a series of higher level testing like strength, agility and coordination.
"There are a lot of elements to [Grid], as far as physical labor goes," Clever informs. "I think it's one of the most exciting team sports you can watch."
In the NPGL, athletes are able to push the limits of the human body to its athletic peak. Fans can witness monumental achievements that were once unheard of, like man vs. woman in the same competition.
"You have to rely on the strength of both genders in order to do well," Clever stresses. "In fact, in our sport, what they say a lot amongst teams is that the strength of your women is a large determining factor of your success against the other team."
Grid is simple – that is, of course, if you have the endurance of a gladiator. Two teams consisting of men and women battle it out on a four-grid floor for 11 total races that each last two hours. Every team has at least one athlete over 40-years-old and is given the tactical convenience of unlimited substitutions.
"You can't get more combative," Clever says. "Every second counts when you're out there. Each mistake you make can make or break your team."
"It's so exciting and compelling to watch that play out on the field," the athlete continues. "That's why I think our sport is the most exciting thing to come out of team sports in a long while"
While the sport is primarily one of physical strength, Clever sites team cohesiveness as one of the most important and underrated factors for a team's success.
"We have to work hard to make sure that everyone understands that," Clever expresses. "You have to cultivate it. I feel we've done a very good job this year of developing our cohesiveness as a team and trying to become a family."
The Los Angeles Reign's next scheduled match is on Aug. 29 at Alameda Fairgrounds against the San Francisco Fire. NPGL runs from now up until Sept. 20, and the conference quarterfinals begin Sept. 9 at the Anaheim Convention Center. For tickets and more information, visit npgl.com.
Marvin Vasquez and Sylvia Aparicio contributed to this story.
Video Slider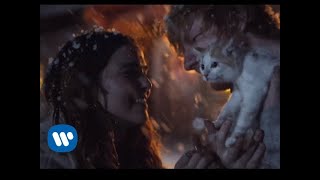 Win Tickets to See Ed Sheeran at the Rose Bowl
Ed Sheeran is back in Los Angeles, and your chance to see him perform is at the Rose Bowl in Pasadena on Saturday, Aug. 18. We are giving away complimentary tickets to the show. For a chance to enter to win, email us at
[email protected]
with "Ed Sheeran" in the subject line and tell us why you would like to go.