L.A. Phil's VAN Beethoven Project Hits All the Right Notes in 3D
Catch the VAN Beethoven mobile experience as it tours Los Angeles through Oct. 18.
Without even realizing it, most people have heard the music of the German classical composer Ludwig van Beethoven at some time in their life. For me that aha moment came in 1976 when I first heard and danced to the disco song "A Fifth of Beethoven," which was a take on the composer's "Symphony No. 5 in C minor, Opus 67" (aka Beethoven's Fifth). Written between 1804 and 1805, it's one of the best known compositions in classical music. The disco version was an early instrumental electronic song recorded by Walter Murphy and the Big Apple Band that reached the No. 1 spot on the Billboard Hot 100 music charts where it stayed for one week. The following year it was included on the soundtrack of the film Saturday Night Fever, starring John Travolta.
As part of its ambitious Immortal Beethoven music project, the Los Angeles Philharmonic launched a touring vehicle dubbed VAN Beethoven that is traveling throughout L.A. County through Oct. 18. This customized van is equipped with six seat stations (duplicates of those in Walt Disney Concert Hall), each with its own Oculus virtual reality headset and earphones that transport you (pun intended) to the first five minutes of Beethoven's Fifth as though you are seated in several viewing spots in the concert hall.
One of the interesting aspects of this new Oculus technology is that while the images appear in 3D, your head movement also rotates your viewpoint in the hall in any direction. So while the Los Angeles Philharmonic is playing that famous introduction under the baton of Gustavo "The Dude" Dudamel, your "body" is placed in several seat locations inside Disney Concert Hall including within the orchestra itself. Some of the segments which face Dudamel head on are so real that you feel like you could reach out and touch him.
This innovative community outreach project was funded by the James Irvine Foundation and the David C. Bohnett Presidential Fund for Discovery and Innovation, named after its founder, the American philanthropist and technology entrepreneur David C. Bohnett. Bohnett is a former Board Chair of the Los Angeles Philharmonic and currently serves on their Board and Executive Committee.
Living Out Loud – Los Angeles had the great pleasure to meet Bohnett briefly at the VAN Beethoven launch event held at Walt Disney Concert Hall Sept. 9, which was followed by a phone interview at a later date.
LOL-LA: You were born in Chicago, Ill. and are not a native Angeleno. Why are the people in Los Angeles so important to you?
DB: I came to L.A. as an 18-year-old with two suitcases to study computer science and have spent most of my adult life here. At that time, seeing the growth, potential of the city, how it was so welcoming and still had that sense of western frontier and opportunity all inspired me. Here I made my way. My personal and professional achievements are all part of the spirit of Los Angeles, of openness and opportunity. So I want to provide an opportunity for others.
LOL-LA: Does Beethoven as a composer hold any special meaning to you? If so, was this the impetus for this VAN Beethoven project?
DB: He certainly does now as the result of this project, so I can answer yes. I love music and I'm a classical music fan, but this all happened to coincide with our virtual reality project and Beethoven Festival, so timing-wise it all came together but not because of any particular selection on my part.
LOL: The VAN Beethoven experience is very high tech. How was this started, and how involved were you?
DB: It started as one of the components of our community outreach, audience development and education efforts. We here at L.A. Phil have a culture and philosophy of social responsibility so we want to reach out to the community in various ways. We have education programs for schools, community concerts throughout the city as well as a program to bus children in, but in addition we are always looking for new ways to reach our potential audience. This is also an extension of our technology and media project that includes a large web presence, active social networks and a series of applications just to name a few. You might also remember a few years ago we had multiple live concerts projected in HD at theaters throughout the country, so VAN Beethoven is an extension of our ongoing outreach via our technology efforts.
LOL-LA: How and when did your passion for the arts start? Was it before, after or at the same time that your interest in business and technology started?
DB: It was before. I played clarinet in school and was fortunate to attend a public school system that emphasized music education where I also played in a marching band. At the same time going through Junior and High School I was also interested in communications and technology; I was an amateur radio operator as well. So both of these passions have been intertwined all of my adult life.
LOL-LA: What is your vision to get minorities and younger people to L.A. Phil and other arts institutions you are involved in?
DB: A couple of things, one is that our programming has to be relevant to those communities and reflect the full diversity of Los Angeles. This is somewhat easy to do downtown at Walt Disney Concert Hall with various music series and even easier at the Hollywood Bowl. So it starts by showing that we have diverse programs. Second is access, showing that people can get into the Bowl and Walt Disney Concert Hall. We still have $1 tickets at the Bowl, and we have very affordable ticket programs Downtown. Another way is by providing access to our concerts outside those two venues as well as through iTunes and other streaming services.
LOL-LA: How do you want to be remembered both personally and professionally?
DB: I think as someone who tried his best to help other people, to give others an opportunity to be a full part of their community so they can achieve their personal and professional potential. When I started my internet company, GeoCities, it was with the intent of giving people an opportunity to contribute and participate in the internet by helping them set up their own home pages and be able to meet people with similar interests. So my goal has always been to empower people so they can achieve their potential in whatever area they choose.
Some interesting facts about Bohnett's stellar business and philanthropic career: He started selling Amway products and delivering newspapers at an early age, then was bit by the technology bug (pun intended) in high school and decided to move to Los Angeles to attend USC, one of the few universities in the country at the time with a computer science program. He worked his way through college by waiting tables and other service jobs, graduating with a BS in Business Administration and then earning a MBA from the University of Michigan.
In 1994 he developed the first social networking site, GeoCities, with John Rezner, a forerunner of MySpace and Facebook. By 1998 it was the third most visited internet site and in 1999 was purchased by Yahoo! Inc. for $3.57 billion dollars. With this financial freedom, Bohnett established the David C. Bohnett Presidential Fund for Discovery and Innovation, which is committed to "improving society through social activism by providing funding, state-of-the-art technology and technical support to innovative organizations and institutions that, in addition to meeting our funding guidelines, share our vision." The presidential Fund was part of a recent $20 million gift to the LA Phil.
VAN Beethoven tours Los Angeles through Oct. 18. For more information, visit laphil.com/vanbeethoven.
Video Slider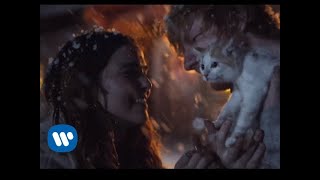 Win Tickets to See Ed Sheeran at the Rose Bowl
Ed Sheeran is back in Los Angeles, and your chance to see him perform is at the Rose Bowl in Pasadena on Saturday, Aug. 18. We are giving away complimentary tickets to the show. For a chance to enter to win, email us at
[email protected]
with "Ed Sheeran" in the subject line and tell us why you would like to go.