Justin Sipes Discusses Upcoming Monster Jam Triple Threat Series
Monster Jam Megalodon Driver Justin Sipes (Photo by Eric Stern)
The insanity that is Monster Jam will be returning to Southern California with L.A.'s first ever action-packed arena event, Monster Jam Triple Threat Series.
The showdown of eight extreme Monster Jam teams will take place Aug. 17-19 at Staples Center.
The adrenaline charged event features some the most intense Monster Jam athletes in a battle for the championship.
Competitors include Grave Digger driven by Brandon Vinson, Max-D driven by Jared Eichelberger, El Toro Loco driven by Mark List, Monster Mutt Dalmatian driven by Cynthia Gauthier, Megalodon driven by Justin Sipes, Wonder Woman driven by Collette Davis, Zombie driven by Tyler Groth and Blue Thunder driven by Travis Groth.
Justin Sipes will be driving Megalodon in the Monster Jam Triple Threat Series.
Sipes said he's been racing Motor Cross his entire life and has been doing Super Cross professionally for eight years.
Inspired by Tom Meents and his ability to do things no one else was trying at the time, Sipes says he's not afraid to try new tricks and master them.
With his first Monster Jam competition back in 2017, Sipes said of his experience, "It's been awesome, I can't complain. My first year I ended up winning and my second year was amazing, I ended on top again."
"You get the rush of racing dirt bikes but you've got a road cage around you, so you get the best of both worlds," Sipes said.
While many may find Monster Jam to be dangerous, Sipes says safety is actually their number one priority.
With five record-breaking stadium events at Angel Stadium this year, it's clear Monster Jam is as popular as ever and shows no signs of hitting the brakes.
Motorsport fans can expect the thrill of seeing their favorites go head-to-head in seven endurance competitions.
Larger-than-life trucks, meticulous dirt tracks and non-stop energy are sure to keep fans cheering, along with more trucks, more racing, more freestyle/donuts, more wheelies and a ton more action.
"It's [Monster Jam] grown in just the few years that I've been in it, there's a lot of new tricks that people are doing and we're doing more and more tours and going to new cities," Sipes attributed to the increasing popularity.
"10 years ago we were drag racing in a straight line and now we're doing all sorts of things, I mean in terms of free style it has process greatly," he added.
Testing the versatility and endurance of each athlete while driving 12,000 lb. Monster Jam trucks, Monster Jam Speedsters and Monster Jam ATVs, the series is not for the faint of heart.
When it comes to preparation for freestyle, Sipes said, "We know our trucks, we do so many shows a year that we know the ability of our trucks. We know a trick is possible but it's just a matter of how we're going to obtain it."
Along with all of the high-energy and competition, Monster Jam should also be credited for having two of the best female drivers.
"I think it's great!" said Sipes.
"They don't have a separate competition. They're out there with us and they get the same trucks."
"We're out on the same playing field and they'll give you a run for you money every time."
For Sipes, being out on the road with his fellow competitors is "Like a big family, we all travel together, and we all go out and eat together, it's home away from home."
His advice for anyone who would like to follow in his footsteps is to "keep chasing the dream."
Fans can watch Sipes compete Aug. 17-19 at Staples Center.
Tickets start at just $25 and can be purchased at www.monsterjam.com.
Marvin Vasquez and Joelly Vazquez.
Video Slider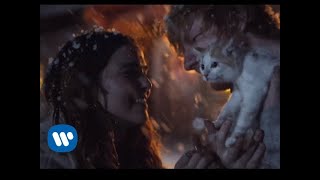 Win Tickets to See Ed Sheeran at the Rose Bowl
Ed Sheeran is back in Los Angeles, and your chance to see him perform is at the Rose Bowl in Pasadena on Saturday, Aug. 18. We are giving away complimentary tickets to the show. For a chance to enter to win, email us at
[email protected]
with "Ed Sheeran" in the subject line and tell us why you would like to go.