Julio Reyes Crosses Musical Barriers with New Album and Single
Julio Reyes blends influences from many genres for a sound all his own on REGION*AL*TERNATIVO.
Mexican singer and composer Julio Reyes is giving fans a new sound with his second album, REGION*AL*TERNATIVO. His new single, "Me Canse de Rogarte" ("I Got Tired of Begging You") is now available for purchase on all digital platforms.
Inspired by the song "Ella" by Jose Alfredo Jimenez, Reyes says he wanted to pay homage to Jimenez and do something different that would help bring the song to a younger audience who may not have been familiar with the original.
Reyes' first album, No Inventes, debuted in 2012 under Sony Music. Climbing the Billboard charts were the singles "No Inventes" ("Don't Create") and "Recompensa" ("Reward").
Additionally, his music has been featured in both TV and film. The song "Sin Vergüenza" (Shameless) was included in the soundtrack for the popular Mexican soap opera, "Dos Hogares" (Two Homes) and was also the theme song for the film Pecado Mortal (Mortal Sin), which is currently broadcast by the Cine Latino channel.
His love of music came at an early age and was influenced by his mother who would often have him and his brother put on performances for their family. Along with his mother, Reyes says he considers Jose Alfredo Jimenez, Donny Hathaway, Mel Tormé, Juan Gabriel, Stevie Wonder and John Legend to be musical influences.
He attended and received training and a scholarship at Berklee College of Music in jazz and soul, which helped fuel his passion to reconnect with his Mexican roots and inspired the title of his newest record. Not only did he reconnect with his roots, he says the experience was incredible as he was able spend every day learning music from all across the world and making friends with people of different backgrounds.
Fusing different rhythms, traditional band instruments, Norteno and Mariachi sounds and arrangements of soul and R&B, Reyes enlisted the help of musician and Latin Grammy winner, Ulises Lozano (Kinky) to produce the album while band arrangements were done with the help of Maurilio Pineda (Voz de Mando).
"I wanted to make sure that it's something that focused on various sounds and could appeal to a larger audience," he says of REGION*AL*TERNATIVO. "This is the future. We're thinking outside the box, and here in the U.S. we have so many influences and speak both English and Spanish. The two cultures are being blended."
With the release of his second album, Reyes says he wishes someone would have told him when he was younger not to worry about the opinions of others.
"We want everyone to like us, but that's not the real world." he says. "We need to listen to ourselves."
"This is a career of many no's and lots of doors being shut in your face, lots of people who don't believe in you," he adds.
But he tells those who wish to make it in the music industry, the most important thing is to believe in yourself, stay motivated, work hard and stay humble.
"If someone doesn't believe in you, don't let it keep you down," Reyes says. "Let it motivate you."
Along with promoting his new single and record, Reyes is currently holding auditions for his band.
To see behind-the-scenes shots, add him on Snapchat @JulioReyesMX.
You can purchase "Me Canse de Rogarte" on iTunes right now. The official music video for the song was released in late May and can be found on his official YouTube account.
For more information, visit facebook.com/JulioReyesOficial.
Video Slider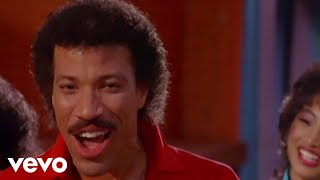 Win Tickets to See Lionel Richie at Hollywood Bowl
Lionel Richie is performing with very special guest Mariah Carey on the All the Hits Tour, and your chance to see them is at the Hollywood Bowl on Monday, July 31.