Interview with the Cast of Telemundo's New Series "Celia," Based on the Life of Celia Cruz
Aymée Nuviola as Celia Cruz in "Celia," premiering Oct. 13 at 8 p.m. on Telemundo
The name and music of the late Afro-Cuban singer Celia Cruz have always been parts of the fabric of my life, especially since immigrating to the USA from Cuba in 1969. Maybe it's because dancing and popular music are so interwoven in Cuban culture; maybe it was her charismatic, larger-than-life persona and stage presence; maybe it was just that she was so AZUCAAAR (sugar) sweet, which was also her trademark shout!
Born in the modest neighborhood of Santos Suárez in Havana, Cuba, under the name of Úrsula Hilaria Celia de la Caridad Cruz Alfonso de la Santísima Trinidad, she was known worldwide as Celia Cruz, "The Queen of Salsa", "La Guarachera de Cuba," "The Queen of Latin Music" or just simply "Celia." During her lengthy career she garnished seven Grammys/Latin Grammys, a star on the Hollywood Walk of Fame and the National Medal of Arts from President Bill Clinton in 1994, as well as multiple national and international awards.
I can vividly remember seeing and hearing her multiple times at the old Conga Room location on Wilshire Boulevard, the House of Blues, but especially during the RMM Records Festival at the Hollywood Bowl that took place during the late 1990s and early 2000s. There she would hold musical court alongside other Latin music stars such as Tito Puente, Oscar D'León, Eddie Palmieri, Cheo Feliciano, Ismael Miranda, José Alberto "El Canario," Tony Vega, Tito Nieves and a very young Marc Anthony with Linda Caballero (known as La India) singing their first big hit, "Vivir Lo Nuestro."
Having graced stages and airwaves all over the world during her 55-plus-year career, the image of Celia is back posthumously via Latino television network Telemundo's new telenovela, "Celia," set to premiere Oct. 13 at 8 p.m. With a total of 80 one-hour episodes airing five times a week, the life of "The Queen of Salsa" and her husband/manager Pedro Night is portrayed by Puerto Rican actors Jeimy Osorio and Modesto Lacén as the young couple, and Cuban singer/composer/pianist turned actress Aymée Nuviola and Puerto Rican Willie Denton as the couple in their later years.
On Oct. 6, Telemundo held a special screening of the first three episodes at the London West Hollywood, followed by a catered reception where all of the main actors made an appearance. The following day at the same location, Living Out Loud – Los Angeles sat down with the four actors to talk about their background and how it was to portray this early power couple of the music industry.
Living Out Loud – Los Angeles: Aymée, you are known as a singer, composer, pianist and now actor. When did you start acting?
Aymée Nuviola: It all started in Cuba many years ago after my sister and I won the talent competition "Todo El Mundo Canta." Subsequently the Cuban Institute of Radio and Television decided to open an arts academy to include those involved in this competition, as well as other talented young musicians, in order to promote the new generation. In the school they offered acting, makeup and costume design classes, which sparked my interest in acting, and I ended composing music for many of the theater pieces. Since moving to Miami, I have been involved in micro theater the past couple of years, which I love doing because the audience is so close. I was involved in the production of "La Lupe en Tres Tiempos," which helped me get ready for the role of Celia Cruz.
LOL-LA: Speaking to you during the reception on Tuesday evening, I noticed that your way of speaking and mannerisms reminded me of our dear, late Celia. Was this a result of your experience doing the role, and how did you prepare for it?
A.N.: Many people have commented in the past that I resemble Celia in some of my mannerisms and voice. One particular instance happened when I was recording with Jorge Luis Piloto, a well known Cuban-American composer/producer who worked with and knew Celia. I can't remember exactly what happened, but he jumped up during a recording session and said, "You made a gesture just like Celia," which surprised me since I don't notice myself doing things like that.
In preparing for the role, I viewed multiple videos that would show Celia's head, hand and arms well, while making notes on the mannerisms that we shared but then focusing and studying those that were different.
LOL-LA: Willie, how did you prepare your role of Celia's husband, Pedro Night? Did you know any of the actors involved prior to this, or Celia and Pedro?
Willie Denton: Unfortunately I never had the chance to meet them in person, but growing up in Puerto Rico I saw Celia on television and in concert many times, and her music was played in my home regularly. To prepare for the role of Pedro I spent a lot of time online looking at videos, reading their biographies, talking to people who knew him and also used my imagination as an actor to bring to life this character.
As far as knowing other actors, you know that the younger Night is being played by the Puerto Rican actor Modesto Lacén, who in the past I have worked with in theater and film. Coincidentally we ended auditioning for the part the same day in Miami, and when it was first announced that he would play the younger Pedro we happened to be doing a musical on the life of baseball legend Roberto Clemente, in which he portrayed Clemente and I, his father.
LOL-LA: Jeimy, you are an actress and singer. What do you enjoy the most, and how did these talents manifest themselves? Did you know Celia Cruz personally?
Jeimy Osorio: I began as a singer with the the Coro de Niños de Ponce, a very important and well-known institution in Puerto Rico, which gave me an opportunity to find my interest in music. While growing up and getting to know that this was my passion, I also studied and got a degree in teaching to please my parents, as they were worried that the music career would not take off. The acting part began later as I started to look for singing jobs that required someone of African descent, which subsequently landed me a job in the musical "Hairspray" on Broadway as part of the singing group the Dynamites. This exposure brought me an offer for a role which had speaking lines, and since then each job has helped me to expand my acting career.
Unfortunately I did not get to meet Celia, but prior to this role I traveled to Cuba as a promise to myself. There, I visited Celia's old home, the station Radio Progreso where she won her first contest and also met and spoke to persons who knew her.
LOL-LA: Modesto, your character of Pedro Night was a womanizer and a liar when he met Celia. How did you adapt to portray this role? You are not like this, correct?
Modesto Lacén: Ha ha! Not at all, for the peace of mind of my girlfriend! Truthfully, I had a lot of fun with it. In the past I have played several historical characters, portraying them not as these mythical figures but as human beings with flaws. During the shooting of "Celia" I would ask the director how vulgar I could be in a scene or how far to go with it because I wanted to throw myself into the character. Pedro at the beginning was as you described, but he was also funny, had a big heart and was a lot of fun – this is what Celia saw in him.
Judging by the answers to these questions, the upcoming telenovela "Celia" promises to be spicy, make people laugh and cry as we get to know better the life of the late Celia Cruz! Of course, all of this comes with a big dose of AZUCAAAAR!
"Celia" premieres Oct. 13 at 8 p.m. on Telemundo.
Video Slider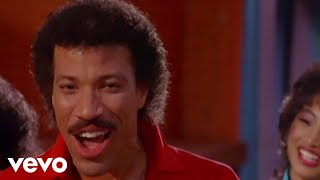 Win Tickets to See Lionel Richie at Hollywood Bowl
Lionel Richie is performing with very special guest Mariah Carey on the All the Hits Tour, and your chance to see them is at the Hollywood Bowl on Monday, July 31.