Interview with Gordon Thomson, Star of the New Online Series "Winterthorne"
Golden Globe-nominee Gordon Thomson returns to daytime dramas in the new online series "Winterthorne."
Gordon Thomson may have lived in Los Angeles for more than half of his life, but the star of the upcoming online series "Winterthorne" makes a startling confession about the city he calls home.
"I don't care for it, oddly enough. I'm Canadian, and I miss winter," he shares.
This is not a slight to the people of Los Angeles, whom Thomson adores or the many cultures of Los Angeles that fascinate him, but the veteran soap opera actor who received a Golden Globe nomination for his work on "Dynasty" misses the seasons that our drought-ridden city lacks.
Thomson nearly missed out on a career as an actor because of a case of nerves. While attending college at McGill University, he considered auditioning for a part in "A Midsummer Night's Dream," but nearly chickened out by claiming to have to write a term paper. It was only after having what he calls his first sensible conversation with himself that he overcame his fears.
"I could become a second-rate, probably alcoholic teacher, or go upstairs and try it," he says.
Thomson got the part, and has been acting steadily ever since that moment 50 years ago.
That career included his best-known role in "Dynasty," in what he considered the best male role on a show that was renowned for Joan Collins catfights and remains an inspiration for shows such as "Empire" and his latest role in "Winterthorne." Despite being an online series, Thomson credits it for high production values comparable to his '80s work with Aaron Spelling, and lavishes praise on its producer and co-star Michael Caruso.
"I'm not especially stupid," Thomson says. "Michael is especially intelligent. Michael has a staggeringly good mind."
Thomson credits Caruso with dialogue that exceeds that of the traditional soap opera, and recounts how a soap opera veteran was shocked to learn that the dialogue was so intricate that he couldn't get away with showing up on set without having memorized it, as he could do on a traditional daytime drama.
The series focuses on the Winterthornes, a wealthy family of entrepreneurs who made their family fortune generations before off the Winterthorne plant – its fruit contains youth-enhancing properties. Despite being the veteran actor of the cast, Thomson credits "Winterthorne" for adhering to a matriarchal structure.
"Women are more intelligent than men, after all," he says, "and it's about time that glass ceiling is shattered forever."
Despite work that has ranged from Shakespeare to "Godspell" as well as his current work on an online soap, Thomson does not judge the work by its medium.
"If you're lying, someone's going to know it. If it's Ibsen or soap opera, which some people deride but shouldn't, the truth is the truth."
Acting, he says, is the art of telling the truth, and he credits working with the best teachers for his success.
"It's like carpentry. If you're going to be a really good carpenter, you become an apprentice to a master carpenter."
Admitting that the programs that trained him no longer exist – he had the opportunity to learn fencing from Errol Flynn's stunt double – Thomson suggests following in the footsteps of the greats.
"Where did Meryl Streep, Judi Dench, Jeremy Irons or Benedict Cumberbatch go to school? Find out, and if it's in the country you live in, then apply," Thomson suggests to anyone who might want to learn acting.
By learning from the greats, an actor can learn to be truthful, even if that truth is that one would rather be experiencing winter in Canada.
"Winterthorne" premieres Aug. 27 online at winterthorne.com.
Video Slider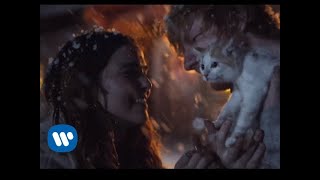 Win Tickets to See Ed Sheeran at the Rose Bowl
Ed Sheeran is back in Los Angeles, and your chance to see him perform is at the Rose Bowl in Pasadena on Saturday, Aug. 18. We are giving away complimentary tickets to the show. For a chance to enter to win, email us at
[email protected]
with "Ed Sheeran" in the subject line and tell us why you would like to go.