Interview with Actor Omar Chaparro About the Magic of Un Gallo con Muchos Huevos
Omar Chaparro with characters from the film at the U.S. premiere (Frazer Harrison/Getty Images for Pantelion Films)
Omar Chaparro lends his vocal talents to Pitin Patán, a duck egg in the upcoming animated feature Un Gallo con Muchos Huevos, which hits theaters today amidst high anticipation. The third feature in the Huevos franchise, the film already promises to be cemented in the annals of Latin-American cinema. Despite being Mexican produced, it comes somewhat close to animated films produced in the United States.
Chaparro discusses his participation and opinions about the film.
"I'm very excited. We've done very well in Mexico so far. In fact, I believe it was the biggest opening for an animated feature there, behind Eugenio Derbez's film," he says. "I'm proud to be even a small part of such a great project. And it really is small, compared to everything behind the scenes necessary to make it come to life."
Chaparro also discusses his character and how he chose its vocal stylings.
"No one know what voice was going to be used for the character. Not even me. It was magical, actually, because I just did the very first voice that came to mind, and we all knew it was the one. I had never done that voice before," he shares. "Even though I haven't done that much voiceover work, I wanted it to be something new, that people wouldn't recognize. The character works very well for that, since it's written as such a lively and explosive little egg. I don't have any past characters even remotely similar."
The film is already causing a stir in Hollywood, and its creators – brothers Gabriel and Rodolfo Riva Palacio Alatriste – have already received several offers to bring their talents stateside. Chaparro goes on to say the film even merits Oscar consideration.
"It's no coincidence that the film will be dubbed in English. As Mexicans, we should feel proud of such a magnificent project – the fruit of years of hard work and love from so many people. They deserve the recognition. All of it," he says. "It goes beyond the four years of production or the 500-plus people involved. It's a rags-to-riches story, if you will, and I'm proud to be a part of it all."
We also had an opportunity to catch up with the brothers Alatriste, who among other things, discussed how this feature came to be.
"It was mine and my brother's idea. Initially it was more than just eggs, but we had already concluded eggs would be a good way to go. We literally removed all the other characters and liked it with just eggs," writer/director Gabriel recalls. "The concept evolved as time passed. Then later came the character arcs and storylines. Eventually it transcended from it being an egg world, into eggs being a part of the human world."
Un Gallo con Muchos Huevos is fun for the whole family, with subject matter for both children and adults. It hits L.A. theaters today. For more information, visit ungalloconmuchoshuevos.com.
Edison Millan contributed to this story.
Video Slider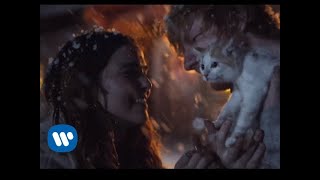 Win Tickets to See Ed Sheeran at the Rose Bowl
Ed Sheeran is back in Los Angeles, and your chance to see him perform is at the Rose Bowl in Pasadena on Saturday, Aug. 18. We are giving away complimentary tickets to the show. For a chance to enter to win, email us at
[email protected]
with "Ed Sheeran" in the subject line and tell us why you would like to go.