Interview: Swedish Soccer Player Turned DJ AronChupa Talks "I'm An Albatraoz," Much More
AronChupa, 24, is a former Swedish soccer player who is now an "electro-swing dance" DJ. (Sony Music)
AronChupa doesn't sit down much.
It's hard to imagine that the guy ever has. The 23-year-old DJ and athlete out of Borås, Sweden has been trading his time between music and fotboll (meaning soccer in Swedish) for years.
"I've always been playing soccer and music at the same time," says AronChupa, who in real life is named Aron Ekberg, during an exclusive in-person interview with Living Out Loud. "So it's not like I decided to quit soccer one day say, 'oh hey, now I'm gonna start making music.' It's just that while I was playing soccer I made this track, and released it, and it just became big, and I started to think maybe music is what I should do."
The track that Aron is referring to, "Albatraoz," was a 2013 release from an electro-hip hop group group called Albatraoz that he formed with fellow members of the Swedish fourth division football club Byttorps IF. The group signed with Sony Music, toured regionally to promote the release, and in the end "Albatraoz" became a certified gold record on the Swedish charts.
In 2014, he released his first single as a solo artist, under the moniker AronChupa. "I'm An Albatroaz" (as you can see in the video above) features his little sister Nora Ekberg on vocals and has done considerably well on European charts. The song sounds very EDM, even though both Aron and Nora staunchly deny it. The two were passionate about this point when asked how they would classify their music.
"I guess electro-swing dance or something like that. It's not necessarily only electronic dance music. I wouldn't call it EDM," says Aron.
"It's definitely not EDM," Nora chimes in.
The two seemed relaxed with each other. Cool and composed as they sat poised in wicker chairs placed in the verdant backyard of his publicist's office, D.Baron Media Relations Inc., in Santa Monica, Calif.
"We need to get you two to Beverly Hills in 45 minutes!" their rep yells out from inside the house. Talk about a busy schedule!
It's an admirable demeanor considering that the pressure that is mounting, and both of them are working with family.
"We are siblings so sometimes that can be tough but it's also a good thing," says Nora, speaking of the experience touring internationally with her brother. "It's like a positive thing in our relationship but it can also be like tearing us apart a bit sometimes, but I think it makes us stronger as well."
Both Nora and Aron are trying to get projects out, while taking on a suddenly ambitious tour schedule.
"We've mainly playing Europe," Aron says of his recent tour plans. "And then I did my first show in Phoenix on Thursday [March 19, 2015]. So Phoenix, L.A., San Jose, and then Miami [for Ultra Music Festival]."
Aron of course is looking to get out more tracks, which he expects to release this spring.
Nora, on the other hand, is developing her own solo project at the moment.
"I'm there to sing 'I'm an Albatraoz' and that's pretty much it, for right now," she says. "We are trying to work on a project, right now, for me. But we're figuring it out. I don't know really. I don't even know yet… we're just experimenting with it right now. So we'll see."
With regard to the future, AronChupa has got two things coming up: festival appearances, and new music.
As for festivals, he can make his best guesses, but as of now his schedule is still not announced.
"There's gonna be some cool festivals," he says. "To be honest I don't know my schedule right now. But I know there are a couple of festivals coming up, which is really cool…I don't know any of them actually. I think I could say them, but I don't know any, I haven't seen my schedule yet."
For music, AronChupa is considering lots of things as to what to release. He's got a good head of steam, and he surely needs to follow up the massive hit, "I'm An Albatraoz," with another one.
But again, it might all depend on his composure, which he has.
All that Aron will say about his upcoming releases is that he's excited. It's a clear sense of patience that will likely serve the young DJ well.
"There are a lot more cool projects coming up for 2015," he says. "And I just can't wait to release more stuff. We're just waiting for the right time."
Video Slider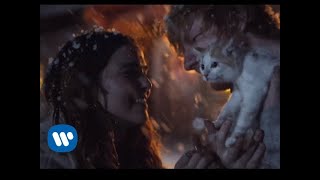 Win Tickets to See Ed Sheeran at the Rose Bowl
Ed Sheeran is back in Los Angeles, and your chance to see him perform is at the Rose Bowl in Pasadena on Saturday, Aug. 18. We are giving away complimentary tickets to the show. For a chance to enter to win, email us at
[email protected]
with "Ed Sheeran" in the subject line and tell us why you would like to go.