Interview: Life Itself Director Dan Fogelman Defends His Uplifting Vision
Olivia Wilde and Oscar Isaac in Life Itself (Amazon Studios)
"It's the word 'interconnection'", states noted writer-director Dan Fogelman, an electric glint in his eye. "What I'm interested in right now is the things that connect us." Indeed, this fascination is no great secret; Fogelman's smash ABC series "This Is Us" tracks along with a single family unit through the decades, cutting between past, present, and future to create an intricate dramatic weave beloved by viewers nationwide. Fogelman has now put this same tactic to good use in his latest feature film— the wildly ambitious, star-studded genre bender Life Itself. The story is framed around Will (Oscar Isaac), a disheveled writer, who visits his sage therapist (Annette Bening) to discuss his troubled marriage to true love Abbey (Olivia Wilde) and disjointed relationship with his infant daughter Dylan. Just as this plot-thread is beginning to unwind, Fogelman's yarn diverges to show two separate timelines: one displaying a future romance between a now-college-aged Dylan (Olivia Cooke) and her boyfriend Rodrigo (Alex Monner), and another following Rodrigo's own troubled childhood saga in Spain. Throughout these various narratives, Fogelman introduces us to a "who's who" cast of luminaries, including Mandy Patankin, Antonio Banderas, and Samuel L. Jackson to tell a weighty, sophisticated tale of love, loss, and the human spirit.
"It was an interesting path to getting this movie made," admits Fogelman. "I wrote the script speculatively, set it up with a company called FilmNation and we did it all independently. Then I started screening it for friends and industry people…everyone from Warren Beatty and Barbara Streisand…and word started getting out. People started reaching out leading to Amazon taking the movie off the market, so we got this big wide release set without having to go to any film festivals first." From this auspicious starting point, Fogelman's casting dreams were then realized: "I was lucky enough to get my first choices for each role in casting. We didn't have rehearsal time but the chemistry on screen is the product of great actors who loved each other."
Central to this loving cast is the great Antonio Banderas, who plays a wealthy Spanish land owner who alternatively helps, then seduces, young Rodrigo's mother. Banderas' career is experiencing a second wind after a starring role in the recent limited series "Genius: Picasso," a turnaround Fogelman chalks up to the actor's unheralded talents: "He's such a movie star and…there's a tendency to forget those people are that great as actors. This role really highlights his acting skill and its great to have an American film where he can work in the Spanish language. He was wonderful to work with."
Despite the charm and romanticism inherent to his work, Life Itself sees Fogelman also dipping into darker territory, specifically as it pertains to loss and human mortality— facets that the director is surprised we don't see more of in pop culture. "I don't know why its rare to discuss death in film," he states. "It's the big question of our human experience. We start asking this question as little kids and when we fall in love it scares the shit out of us because you're attaching a life to someone that anything can happen to. But I'm not just into death…but also birth and marriage. This film is not one thing. It's alternatively really light but it also has heartbreaking loss. To me, that's what life is…I buried a close friend recently and his funeral was one of the saddest times…but also when I think back about the hardest and most joyous laughs I've had…it would be in that same 48 hour period because we celebrated someone we loved."
Indeed, Fogelman ponders why most works which tackle death these days have to veer into such cynical territory, remarking: "I would think (my take) would be the most common and the more bleak stuff would be the 'other'". He reserves criticism for a cadre of online critics, who often deem his work— Life Itself included— overly sentimental. "The conversation about film and TV is being driven by fifty older white men or women who are wildly out of touch regarding what people want…in this genre they never treat it fairly because they want it to be their thing. A 'surprisingly smart romantic comedy' or a very bleak Oscar drama. They have a tendency to make it uncool and call it sentimental, but there's a gap between what they think and what the public thinks."
But despite the criticism, Fogelman sticks to his guns, crafting stories inspired by the formative works of literature which shaped his worldview. "I was a reader growing up," he says. "The film is inspired by a lot of books— and my go-to book is a generational sprawling family genre. Everything from Dickens… to 100 Years of Solitude to Ann Tyler's Dinner at Homesick Restaurant." Fogelman also finds his creative spark in his own life experiences, remarking: "I write what I know and I write… of other people's story. A story you tell me about your family might stick with me and become a scene in my show or movie. I adore my wife the way Oscar Isaac adores his wife in the film. I'm not as charming as he is but I get what it's like to love someone completely and in a way that might freak them the fuck out if they're wired differently. A scene at the end of the movie between a mother and her son is a scene I never got to have with my own mother who passed away."
At the end of the day, Life Itself, along with Fogelman's general ethos, returns back to that familiar word of his: interconnection. "The world is a scary place right now… so I'm into finding what brings us together rather than divides us. This is a movie that doesn't have a lead character…everyone is a supporting character, and that (message) is, ultimately, the real lead here."
Life Itself is now in theaters nationwide.
Video Slider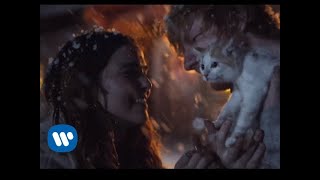 Win Tickets to See Ed Sheeran at the Rose Bowl
Ed Sheeran is back in Los Angeles, and your chance to see him perform is at the Rose Bowl in Pasadena on Saturday, Aug. 18. We are giving away complimentary tickets to the show. For a chance to enter to win, email us at
[email protected]
with "Ed Sheeran" in the subject line and tell us why you would like to go.