Interview: Former NBA Player Desmond Mason Talks Love for Art
Former NBA player Desmond Mason has turned to art. (Courtesy photo)
"http://lol-la.com/wp-content/uploads/2019/04/7.png" alt="disney on ice banner">
"http://lol-la.com/wp-content/uploads/2019/07/HB19_DIGITAL_HERBIEHANCOCK_PROMO_728x90.jpg">
"http://lol-la.com/wp-content/uploads/2019/07/HB19_GIPSYKINGS_PROMO_728x90.jpg">
"http://lol-la.com/wp-content/uploads/2019/07/FT19-Kinky-728x90-1.jpg">
"http://lol-la.com/wp-content/uploads/2019/07/HB19_MICHAELMCDONALD_CHAKAKAHN_PROMO_728x90.jpg">
"http://lol-la.com/wp-content/uploads/2019/07/JoseLuisRodriguez_728x90.jpg">
"http://lol-la.com/wp-content/uploads/2019/05/MTH-190039-Feel-The-Fame-Remarketing-Banner-728X90.jpg">
"http://lol-la.com/wp-content/uploads/2019/07/80sWeekend8-2019-ViantBanner-728x90.jpg">
"http://lol-la.com/wp-content/uploads/2019/07/Living-Out-Loud-LA-for-Air-Supply-728x90.jpg">
http://lol-la.com/wp-content/uploads/2019/07/Yachtley_Crew-728x90.jpg">
"http://lol-la.com/wp-content/uploads/2019/07/AnaBarbara_728x90.jpg">
Desmond Tremaine Mason (born October 11, 1977) is a retired American professional basketball player formerly of the Seattle Supersonics, Oklahoma City Thunder, Milwaukee Bucs, Cleveland Cavaliers and the Sacramento Kings from 2000 – 2009.
But he is also a painter. He was designated as a shooting guard and small forward, but Mason has also found success as an artist, working in a variety of media. Currently, he is an NBA Analyst and Sports radio co-host for "The Franchise", a sports talk station in Oklahoma City.
Desmond recently created original art inspired by the iconic character of Godzilla and for Godzilla: King of the Monsters.
We got a chance to talk with Mason and he spoke about a variety of things, including his love for art.
Living Out Loud LA: Right off the bat, how did this art peace for the movie come about? Talk to me about the initial process.
Desmond Mason: Yeah, well I've worked in Miami Arbazo, I've done shows with several people , so I worked with a groups in arts periodically. They contacted me and said that this opportunity was available and if I had time in my playing schedule to deal with commission fees with Warner Brothers and a film, so I said 'absolutely,' you know me and Griffin were at an exhibition for Miami Arbazo and then flying to Oklahoma and then going to LA so I said 'Yeah, let's definitely try to get things done.' So, they send me the information about the film, some little trailer clips, I grew up watching Godzilla, so I knew about the story and then I decided what direction I was going to go with, do I want it to have a straight feel to it ? But also capture the film in Godzilla himself, so I got hold of Godzilla font, the new Godzilla imagery. I did it on a wood panel and just had fun with it, it was a really cool process.
LOL-LA: What was the biggest challenge for you?
DM: You know, I guess the biggest challenge was trying to really capture what Warner Brothers wanted, but then also trying to keep my vibe on it, I didn't want it to be a you know, too gimmicky, I didn't want it to feel you know, like it was just a normal Godzilla painting a hyper-realism kind of paining. I wanted it to have a little of a my style, a little bit of a street vibe to it again, you know?
LOL-LA: Have you seen this movie?
DM: I have, I got a chance to see it when we were just out in LA. Man, it was pretty awesome, I told people just kind of the vibe of it and you know, most movies not just mosh movies, but most movies they kind of build up and down in intensity and this movie man! My wife and I went out, it was cool and it kind of stayed up there, it was pretty high intensity. You know I hadn't seen a monster movie this good in a really long time, you know I think a lot of them were just a hit and miss over the years, the last couple of decades. But I think it's doing a really good job at telling the story but I also think it's doing a good job and bringing all the classic monsters back into one big film.
LOL-LA: Overall , how did you find your passion for art? How did you discover it?
DM: Man I've been painting since a long time; I started ceramics when I was 11 years old, and then from there you know, I just continued to sculpt and draw and then basketball kind of, I always jumped into basketball, it was my professional career as a college student and then I went to Milwaukee and tried to have my first art show in Milwaukee and started having my first big shows there and sold those shows to a charity. And after my retirement in 2010 I just wanted to start an art company and now we are collaborating with you know, Adidas, we've done some cool collaborations, we're doing our own line as well and then now I'm preparing to do my NBA analysis. But I love it man, I got to play every day for a living. There's nothing wrong with that.
LOL-LA: It seems like you got a lot going on, how do you balance everything in your life professionally and personally?
DM: My wife helps out a lot with just keeping kind of the logistical side of our company we are in. It allows me to paint. For a while I started doing it all by myself and once it grew to a certain scale it was near impossible but we have two kids, nine and thirteen. A thirteen-year old girl and a nine-year old boy, so we have that life, plus business, plus you know all the entrepreneur stuff that we have as well. And it's just time management as best we can, my schedule is very flexible so I get to paint. When I feel like painting outside of commissions, but you know I just try to manage my time as best I can. And then once we get home, we turn it off so we can really spend time with the kids.
LOL-LA: Any advice for kids who may want to follow your footsteps and pursue a career in art, what would you advice them?
DM: Man, I got two little ones that are very talented, but I've talked to a ton of kids and the arts are slowly getting out of the school systems, I always tell parents to allow their kids to be creative, but for the kids? You know, just keep pushing you know, there's nothing corny about being an artist. Now a days there are so many opportunities out for creative people, so I just tell all the kids that I speak to 'See it as a great opportunity, see it as a great occupation in the future, you'll do some pretty cool stuff.'
Godzilla is now in theaters.
Ayamel Bracamontes contributed to this story.
Video Slider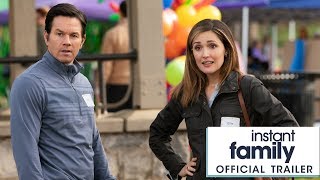 Win a Blu-ray + DVD + Digital Copy of Instant Family
Everyone everywhere can now enjoy Instant Family on Digital and on Blu-ray™ Combo Pack, and DVD on March 5 from Paramount Home Media Distribution. For a chance to enter to win at random, please email us at
[email protected]
with "Instant Family\" in the subject line and let us know why you\'d like to win a copy. This contest ends March 25, 2019.
"http://lol-la.com/wp-content/uploads/2019/07/FT19-Kinky-728x90-1.jpg">
http://lol-la.com/wp-content/uploads/2019/07/Yachtley_Crew-728x90.jpg">
"http://lol-la.com/wp-content/uploads/2019/07/HB19_DIGITAL_HERBIEHANCOCK_PROMO_728x90.jpg">
"http://lol-la.com/wp-content/uploads/2019/07/80sWeekend8-2019-ViantBanner-728x90.jpg">
"http://lol-la.com/wp-content/uploads/2019/07/AnaBarbara_728x90.jpg">
"http://lol-la.com/wp-content/uploads/2019/07/JoseLuisRodriguez_728x90.jpg">
"http://lol-la.com/wp-content/uploads/2019/07/HB19_MICHAELMCDONALD_CHAKAKAHN_PROMO_728x90.jpg">
"http://lol-la.com/wp-content/uploads/2019/04/7.png" alt="disney on ice banner">
"http://lol-la.com/wp-content/uploads/2019/05/MTH-190039-Feel-The-Fame-Remarketing-Banner-728X90.jpg">
"http://lol-la.com/wp-content/uploads/2019/07/Living-Out-Loud-LA-for-Air-Supply-728x90.jpg">
"http://lol-la.com/wp-content/uploads/2019/07/HB19_GIPSYKINGS_PROMO_728x90.jpg">