Interview: Conductor Lionel Bringuier on His LA Phil Tenure and the City of Los Angeles
French-born conductor Lionel Bringuier
"http://lol-la.com/wp-content/uploads/2019/04/728.jpg">
"http://lol-la.com/wp-content/uploads/2019/04/7.png" alt="disney on ice banner">
The Los Angeles Philharmonic over its 100 years of existence has been directed by some of the world's leading, most exciting young conductors of their time. Think maestro Esa-Pekka Salonen and the current music director Gustavo Dudamel for example. Part of the path to reach the highest level of conducting in classical music requires that musicians spend time under the tutelage of a more experienced conductor.
The talented French-born Lionel Bringuier (born 24 September 1986, Nice, France), honed the early part of his career at LA Phil under the guidance of both Salonen and Dudamel. Witness his return to conduct the LA Phil in "Gershwin and Ravel" from March 28-31.
Living Out Loud Los Angeles asked the up and coming conductor to share some of his experience in this art form as well as his time in the City of Angels.
Living Out Loud: You have a musical background as a cellist and pianist. How have these two instruments formed the way you approach conducting? At what age did you start in each of these?
Lionel Bringuier: "I started with cello and piano when I was 5 years old. I always wanted to play the cello even though all my brothers and sisters played the piano. I loved the cello's sound and look, so I started with that at the same time. The cello has always helped me with my conducting, to understand orchestras' bowing and phrasing. Sometimes I have a musical idea and I want a specific bowing, which helps because I have experience with the instrument. The piano helps me often, for example when I'm preparing opera, I use the piano to play the orchestral reduction of the piece. I just worked on Rigoletto with the Royal Swedish Opera, and it always helps to play the music on the piano or to read the score and see a particular harmony. I'm always happy when there's a piano in my dressing room".
LOL: You have collaborated with Chinese pianist Yuja Wang in two recordings of Ravel's work, one released in 2015 and the other in 2016. Where did you first meet Ms. Wang and how did this collaboration start?
Bringuier: "We met first when she was replacing Yefim Bronfman in January 2008 and everyone was very impressed with her playing. She played Prokofiev's Piano Concerto No. 2, and since then we have played many years together and did many tours together. She was an artist in residence in Zurich, so the idea came very easily that she would be on our recording of the complete Ravel cycle. We also collaborated with violinist Ray Chen. I really enjoyed Yuja's interpretation of the pieces".
LOL: You have chosen for this upcoming program at LA Phil works by Ravel and Gershwin, why the pairing? When did you get into these composers and why? Why did you choose pianist Hélène Grimaud to be featured?
Bringuier: "Helene is a regular guest of the LA Philharmonic, and when the LA Phil told me she was available this week, I said immediately yes. First of all, because this will be the first time I will be playing with Helene in Los Angeles. She's a very good friend of mine and we get along very well, we've been playing together now for 12 years. So to share the stage with her in LA is a great honor and joy. We just performed four concerts with the Dallas Symphony and it is always wonderful to share the stage with her and of course to meet outside rehearsals to go to out for dinner and talk. I like her and her playing a lot. I think Ravel and Gershwin are a very natural pairing, which I do quite often. Gershwin's American in Paris definitely speaks to me personally, although for me it's the opposite: a Frenchman in LA. I could only imagine how he felt when he first arrived in Paris, excited to meet new people in a new atmosphere, and it was the same for me when I arrived in LA from Paris and discovered a new way of living and working. LA made a great impression on me. It's my first time performing Gershwin with the orchestra, and we're having a lot of fun rehearsing it together. Gershwin once asked Ravel for advice on composing, and Ravel replied: "You don't need my advice or you will just write bad Ravel, just keep doing what you're doing and you will write some great Gershwin."
LOL: In 2007 you were appointed as an assistant conductor by maestro Esa-Pekka Salonen and then you were promoted to associate conductor under maestro Gustavo Dudamel. Can you tell us what are the differences between these two positions and what are the duties? In your opinion, what are some of the differences between these two great conductors?
Bringuier: "When Maestro Esa-Pekka Salonen appointed me as assistant conductor, it was actually an audition so the whole orchestra participated. I remember the program as well, it was Berlioz Symphony Fantastique, Beethoven Symphony No. 8, and Debussy Prélude à l'aprés-midi d'un faune. I immediately felt great chemistry with the orchestra. I was of course very happy to be there for the first time in the US, and it was a wonderful six years. I was mostly assisting at first, which means sitting in the concert hall getting to know the score, in case a conductor gets sick and needs me to replace them. Gustavo Dudamel arrived as Music Director and we became close friends very quickly and would go out for lunch or dinner after rehearsals and concerts. I got to know him very well and he trusted me a lot, and I began to conduct the orchestra more as associate conductor. This went very well, so the orchestra offered me to be a resident conductor. I was very happy and enthusiastic about this, and it meant I'd assist less and conduct more. I conducted 1-2 weeks a year at Disney Hall and at the Hollywood Bowl. I'm very grateful to both conductors and the entire LA Philharmonic team for trusting me, especially so young at only 20 years old".
LOL: I had the great pleasure of experiencing live, maestro Gustavo Dudamel's rendition of "Cuban Overture" by Gershwin. Since he's from Venezuela, it was very percussion-centric and rhythmically focused. Can you tell us what will be your approach to this piece?
Bringuier: "I would say that everything is already in the title "Cuban Overture," as much as it is in "American in Paris." I would say that, personally, I will go more for a sound close to French music in American in Paris, and closest to South American and Cuban music in the Cuban Overture. I think what is important is to not play one style but to adapt to the style of each piece of music. Clearly, in the Cuban Overture we should feel those rhythms, so that's what I'm working on with the orchestra – to get those very precise".
LOL: You have lived in the city of Los Angeles on and off for some years. What were your first impressions of our city and how has it changed since you have been here?
Bringuier: "Oh yes, the city has changed a lot. Even downtown, I notice it's a lot more lively with more people, there's The Broad museum that just opened here, so you can see that it's really an arts district that is very big now. You can see many new places opened, many new restaurants. Also in the orchestra, many members have changed in the last 10 years, as is the natural process of life and an orchestra. In my two days off this week, I did a little tour of my favorite places in Santa Monica, Los Feliz, Beverly Hills, and Downtown. I always loved Downtown and lived there. Now, when I'm back, the orchestra puts me in a hotel in front of the hall, and it's very central and convenient and easy to go to the other areas of LA".
LOL: France is known for its outstanding cuisine. What other gastronomy have you discovered in Los Angeles that has become a favorite?
Bringuier: "As a Frenchman, we have a lot of great French food, but as I was born in Nice, which is nearer to Italy, I often feel more close to Italian cuisine than French. In LA I've tried Italian and French restaurants, and of course Californian food. In general, when I go to a new country such as Asia or South America, I always like to try local foods. I like to discover new things, but there's nothing like having a good American hamburger".
LOL: Since becoming an "Angelino" of sorts, can you tell us what are some of your favorite places to visit in Los Angeles and why?
Bringuier: "Now I really have very clear in my mind where I like to go. For example, I have local friends living in different areas around town, which then become personal to me. In Los Felis, I love Figaro Bistro, they have really nice food and it is near Griffith Park, which is another place I like to go. I used to go running on the beach in Santa Monica. All the coast from Santa Monica to Marina Del Ray and through Venice Beach was always very nice for me. Of course, when I worked at the Hollywood Bowl, I spent time in the Hollywood area and liked it very much. What I like about LA is that each area is really different – Los Feliz, Downtown, Santa Monica, Hollywood – the city always looks different. I love the different atmospheres you can find in each part".
Video Slider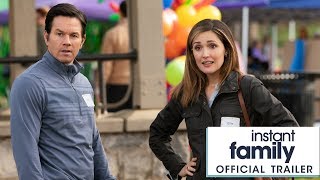 Win a Blu-ray + DVD + Digital Copy of Instant Family
Everyone everywhere can now enjoy Instant Family on Digital and on Blu-ray™ Combo Pack, and DVD on March 5 from Paramount Home Media Distribution. For a chance to enter to win at random, please email us at
[email protected]
with "Instant Family\" in the subject line and let us know why you\'d like to win a copy. This contest ends March 25, 2019.
"http://lol-la.com/wp-content/uploads/2019/04/728.jpg">
"http://lol-la.com/wp-content/uploads/2019/04/7.png" alt="disney on ice banner">