Interview: Christina Hendricks Defines American Woman
Christina Hendricks as Katherine in American Woman (Roadside Attractions)
"http://lol-la.com/wp-content/uploads/2019/07/HB19_DIGITAL_BANNERS_NATALIALAFOURCADE_728x90_NOCTA.jpg">
"http://lol-la.com/wp-content/uploads/2019/05/MTH-190039-Feel-The-Fame-Remarketing-Banner-728X90.jpg">
"http://lol-la.com/wp-content/uploads/2019/06/1903439-MJTT1-LA-SPA_MX_Kit-422136-300x250-1.jpg">
American Woman, directed by Jake Scott, releases on Friday, June 15 and stars heavy hitters Sienna Miller as Debra, Christina Hendricks as her sister Katherine, Sky Ferreira as Bridget, who is Deb's daughter and Katherine's niece, Aaron Paul as Chris, and Amy Madigan as the sister's mother, Peggy.
The movie beautifully moves through all the stages of physical and emotional closure, after every mother's worst nightmare occurs, told from a gritty, realistic lens of a single mother, wild and free in her own right, who is leveled and changed through an excruciating grief process as well as tasked with raising her grandson, and she emerges like a phoenix, at journey's end. This heartfelt story takes place in a blue-collar, small-town in Pennsylvania, where blood ties ultimately distill and illuminate what truly matters.
Living Out Loud LA recently sat down with the beautifully candid and effervescent Christina Hendricks to discuss her role of Katherine in this moving work of film.
LOL-LA: Some scenes in this film are so excruciatingly poignant, you just can't help but feel Katherine's unconditional love for Debra, like when Debra finally kicks out her abusive boyfriend, and Katherine runs into the house and just stands there in the doorway, without a word. You can feel the protection and the love there, as Katherine silently looms in the doorway, unafraid and fiercely protective of her sister. What drew you to this particular material and subject matter in the first place?
Christina Hendricks: When I read a script, I think of what specifically I can offer this role, I think of what I can bring to it. Sometimes I read something and I think I can't offer anything, because it's not mine. This script I read and immediately loved it. I love these people, I love their relationships, and I love how they support each other. Then I got on the phone with Jake Scott, our director, and we had an hour-long conversation and I asked, "What about this, and what about this?" I felt completely energized after our conversation, and felt like I wanted to start right away. I knew that Jake would be someone artistically, who would bring the character of Katherine, and his vision out of me.
LOL-LA: Katherine and Debra clearly led drastically different lives, almost complete 180's of each other's lifestyle. Katherine lead the "good daughter life." She had the marriage, the husband, the children, with no divorces, and no drama. There seemed to be a little bit more tension at the beginning with Katherine teasing Deb about her wild life and Deb asking if Katherine's husband Terry, played by will Salvo, is the only one Katherine has ever been with and does she ever wish she had more partners, etcetera. I picked up on a slight envy from both of them, perhaps coveting each others life, secretly jealous, which was quite a refreshing subtly. Was that directed and intentional?
CH: I think that's a really great observation. I definitely spoke to Jake about that early on, I said Katherine's trying to control Deb by trying to take care of her, and worry about her. She's also envious of her vivaciousness and her recklessness, that she can just do something so off the cuff, which Katherine would never allow herself to do. There's a little bit of living vicariously as she looks out the window every night to see when Deb is coming home. She is protective, but she is also wondering what would that lifestyle be like.
LOL-LA: We all can relate with those moments where we know a friend or family member's spouse is toxic and we attempt to dance the delicate balance between giving advice or downright throwing up signal flares, (I've done this) to get them to see the light about their partner. I really loved the initial interaction with Kath and Deb in the kitchen, when Kath tries to confront Deb about sleeping with a married man and Deb just turns up the radio and starts dancing. There are real moments of real truth there, through Kath's concern, and Deb's response by turning her serious confrontation into a party. Deb's daughter and sister can't help but being amused by her irreverent antics. Did you pull from real life experience there? Being worried about a friend and they're not listening to you. It really seemed to hit home.
CH: We all have worried about someone in our lives. Maybe about someone in different circumstances. I don't think Katherine even needed to borrow milk that morning, she just came up with a reason to get over there to ask questions. Katherine is used to coming to Deb with judgment and with her niece, Deb's daughter, there's this sort of protection she feels in need to equalize the room. I wouldn't say I drew on it from any specific instance in my own life, as I actually I have very controlled people in my life. Now that I think about it, maybe it was me cleaning up after myself.
LOL-LA: Wow, that's very introspective. I have to say, your role on "ER" playing Joyce Westlake, portraying a piercingly real victim of domestic violence, whether it was personal or not, it was very truthful.
CH: Oh, thank you!
LOL-LA: The relationship arc of Deb and Kath truly evolved throughout the movie, into a mutual acceptance of each other's differences in life's choices. By the wedding, Katherine seems more amused by Deb's nontraditional ways, I really love the irreverence of Katherine fetching a cigarette for Debra in her wedding dress, to her mother's chagrin. The unconditional love and co-conspiritorship that only siblings possess were portrayed so beautifully. Was this acceptance procured because Deb was finally marrying, a seemingly "good guy," on your character's recommendation or because their sisterly bond had matured through trauma bonding?
CH: I think that after someone gets through something as intense as losing a daughter or a child, that everything shifts. I think that Debra would have been willing to love Ray as well, he just did everything in his power to not get that love. I think that Katherine wants happiness for Deb, and I think that there is a little bit of relief that Deb can now join the crowd in the Cul De Sac now, the whole " I'm married now, and you're married now." It is very comfortable for Kath, as she understands that lifestyle. That it makes Katherine feel comfortable that Deb will be taken care of now, which takes a little bit of weight off of Katherine. It's a very complicated emotion. Jake and I talked about the last moment when Deb drives away to start a new life, he was like you, as Katherine, are completely gutted, as worrying about Deb has been Katherine's whole life. But I told him that Katherine is also relieved.
LOL-LA: She's off your emotional plate, which is in itself, a mixed bag of emotions.
CH: It's super complicated, so even Debra getting married is a complicated thing to Katherine.
LOL-LA: Speaking of the wedding, I love the element of Katherine whipping out a disposable camera to take pictures. In this digital age of iPhone 12 zillion, that must have been interesting.
CH: Yeah! We were all sitting around the cake and we were all just about to shoot. I said everyone usually takes pictures at a wedding, and so I made them go get me a disposable camera. That was my idea.
LOL-LA: I love that little touch, it's so great it was your idea.
LOL-LA: This movie has uniquely meaty roles for women and their respective journeys with and without a male partner component. It was refreshing to find out that it was written by a man, Brad Ingelsby. I'd like to ask you about the temperature of women in film and the roles that are currently available to women. Are things truly changing for the better? Or do more changes need to be made to even out the playing field?
CH: There still needs to be a ton of changes! There still needs to be improvements for women in film and the accessibility of these kinds of roles. Until men and women are 50/50, equally represented and respected. I'm very happy that I got to work on, American Woman. My current project, "Good girls," is a very female-driven storyline, told through the eyes of women, kind of show. I feel extraordinarily lucky, but until we're 50/50 we, as women, have got to keep going and fighting for equality.
LOL-LA: What would be your dream role? I'm sorry if this question seems a bit trite.
CH: No. Don't apologize! I love that you asked. I feel in some ways, I have already played my dream role. There is always another role out there and I don't know what that is, and I won't know until I read it. I like that people have allowed me to try a little bit of everything. I haven't been pigeon-holed, and that has been really nice.
LOL-LA: This role of Katherine was a beautiful departure from your iconic roles.
CH: Thank you. It was very raw.
LOL-LA: I noticed that men were not portrayed in a flattering light in this movie, and I thought it was ironic that, in my opinion, Deb's closure came through a process and a journey that was ultimately given to her by her daughter's killer, when he agreed to speak to her. Was that constructed on purpose?
CH: That's interesting. I do think Will Salvo's role of Terry, who plays my husband, is very human and lovable. But you are right, we do see the men in Deb's life be the underlying cause of some very painful relationships. That would be for Jake Scott to answer, as the director, but it's an interesting takeaway. We shot the whole scene with the conversation where he explains what happened to her daughter and tells her everything.
LOL-LA: I was wondering that! The way it is cut really works though, leaving it up to Deb to reveal to us what was said, through the aftermath.
CH: Yes, we shot all of it, but Jake decided to not use it. I think it was a wise choice. It would have been interesting to see, and the actor was fantastic, but I do think it was a good choice.
LOL-LA: Ok, so I have to ask. How many takes was the scene where they threw you in the lake, clothes and all? Please tell me it was a "One-er."
CH: Two takes! We did a close up and we shot a wide. I told them that this was it, that we only have limited changes of clothes, and we can't take the time to keep drying these clothes. I was thinking this was going to be awful. It was a little embarrassing.
LOL-LA: I really loved that moment. Thank you so very much for your time with me today, it is an honor to get to speak with you.
CH: Thank you for your really insightful questions, I really appreciate that. This was really nice.
American Woman is in theaters on Friday, June 14.
Video Slider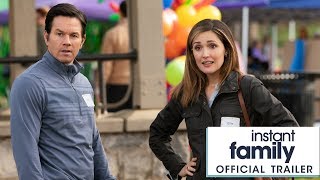 Win a Blu-ray + DVD + Digital Copy of Instant Family
Everyone everywhere can now enjoy Instant Family on Digital and on Blu-ray™ Combo Pack, and DVD on March 5 from Paramount Home Media Distribution. For a chance to enter to win at random, please email us at
[email protected]
with "Instant Family\" in the subject line and let us know why you\'d like to win a copy. This contest ends March 25, 2019.
"http://lol-la.com/wp-content/uploads/2019/05/MTH-190039-Feel-The-Fame-Remarketing-Banner-728X90.jpg">
"http://lol-la.com/wp-content/uploads/2019/06/1903439-MJTT1-LA-SPA_MX_Kit-422136-300x250-1.jpg">
"http://lol-la.com/wp-content/uploads/2019/07/HB19_DIGITAL_BANNERS_NATALIALAFOURCADE_728x90_NOCTA.jpg">