Inside the Mind of Corey Taylor: the Future of Slipknot, Musical Community and Knotfest
Slipknot, the force behind Knotfest, which happens Oct. 24 and 25 in San Bernardino
[soundcloud url="https://api.soundcloud.com/tracks/229516261″ params="color=ff5500&auto_play=true&hide_related=false&show_comments=true&show_user=true&show_reposts=false" width="100%" height="170″ iframe="true" /]
Music is changing whether we want it to or not. Some fall by the wayside, screaming at walls and wishing it was like the good ole days. It's a call to who we are as humans. The same people that try to hold onto their youth instead of embracing the future are the same people that don't understand what's happening "out there."
One man that has been riding the tide of change for over two decades on stage in front of millions is making sure that stagnation doesn't lend itself to his world. Corey Taylor, the frontman of Slipknot, sat down to talk about the state of music today, the motivation for his band's constant hustle and the creation of the wildest festival on the West Coast: Knotfest, happening Oct. 24 and 25 at San Manuel Amphitheater & Festival Grounds.
Things started with Ozzfest, went into Tattoo the Earth, evolved into Mayhem Festival and now that all of those have gone by the wayside, it was time to make something new.
"It really came down trying to create a heavy metal carnival. A festival … if you threw a concert at Mad Max's pad," describes Taylor. "We wanted to make it ourselves. We knew that if we put our brand name on something, it should reflect who and what we are. So besides the music, it has to be about the spectacle, about making it exciting, about differentiating itself from everything else. Making it special and not just something heavy metal fans would enjoy, but music fans would want to come and experience."
As far as the lineup for a new venture that only really had one year to prove itself, Taylor describes how things changed when they went to book the acts for 2015.
"This year we had bands submitting. We proved that it worked last year, and now we have bands scrambling to be a part of it, which is awesome."
The lineup this year has some of the biggest bands of all time on it: Judas Priest, Korn, Mastodon, GWAR, Snot, Corrosion of Conformity, Mobb Deep, Ghostface Killah, Suicidal Tendencies and Clutch to name a few. Oh, and of course Slipknot headlines the final night.
This kind of thinking is what has kept Slipknot evolving over the years and always at the top of every rock playlist. Taylor is well aware that things change, tastes evolve and new generations come into the fold. Creating a festival is a great way to celebrate that mentality.
"It's important for bands like my band and some of the older bands to push the other bands and keep that momentum going. As long as heavy metal can keep creating bands that can headline and hold the attention of a worldwide audience, we'll never run out of fresh blood," he says. "I think it's very encouraging. The newer generation is making it even more creative while also still maintaining a sense of identity."
Elaborating on the community and why this event won't be like your typical concert or festival, Taylor examines the difference in crowds you'll get at a rock show versus a pop show.
"Pop music isn't a lifestyle, it's a temporary band-aid – and that's why so many of those artists are temporary. I think some of them have stuck around longer than others would like. The more you keep forcing that [music], the more people turn back to us," he explains. "And that's fine … I love that they are burning their audience out. … That's just not the way the band community is."
The sense of community is what links new and old fans together. A lot of the acts playing Knotfest have been around twice as long as Slipknot, and the fans still come out. Most of the Top 40 acts that you hear won't be around in 10 years let alone five. With that in mind, the event should give new metal fans a chance to experience a bit of everything, not just what they know.
The additional entertainment at the event is icing on the cake. Fire breathers, games, rides, sideshows and lots of good food competes for attention with all the bands. There is also camping since it's a two-day event in the middle of nowhere. This is going to add to the community atmosphere and really change the way a metal show in California is done.
For tickets and more information, visit knotfest.com.
To listen to the full exclusive phone interview with Corey Taylor, visit https://soundcloud.com/living-out-loud-la/corey-taylor-slipknot
Video Slider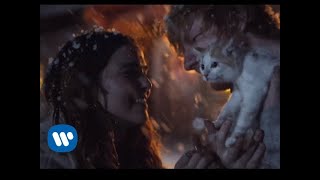 Win Tickets to See Ed Sheeran at the Rose Bowl
Ed Sheeran is back in Los Angeles, and your chance to see him perform is at the Rose Bowl in Pasadena on Saturday, Aug. 18. We are giving away complimentary tickets to the show. For a chance to enter to win, email us at
[email protected]
with "Ed Sheeran" in the subject line and tell us why you would like to go.