Impress Guests with Cocktails Inspired by Voga Wines and Sparkling ICE Drinks
Sparkling ICE comes in a wide variety of flavors that make great mixers.
Starting this weekend with Halloween, the holiday party season is upon us. In need for some cool and refreshing ideas to serve up at your soiree? Look no further: Here are some great cocktail recipes inspired by rich in flavor VOGA wines and Sparkling ICE drinks that are zero calorie and offer many varieties to provide great mixers.
Combined with the white or red and sparkling or sweet Voga, the sparkling water selection can make for pairings that will be the talk of the party. The lightly carbonated drink comes in flavors like Black Raspberry, Orange Mango, Pink Grapefruit, Kiwi Strawberry, Coconut Pineapple and Pomegranate Blueberry, as well as several varieties of Sparkling ICE Lemonades.
Check out our fave drink ideas to try out this fall and winter:
Pretty in Pink
Ingredients:
3 oz. Grapefruit Sparkling ICE
1 ½ oz. vodka
1 oz. lime juice
Lime wedge
Sliced fresh jalapeño
Chili salt for rim of glass (Kosher salt mixed with chili powder)
Directions: Use a lime wedge to rub the entire rim of a chilled martini glass, and dip into chili salt mixture. Combine vodka and jalapeño slices with ice in a shaker. Strain and pour into the chilled martini glass. Top with Grapefruit Sparkling ICE. Garnish with a few jalapeño slices.


Haute Couture
Ingredients:
1 oz Vodka
3 oz VOGA Pinot Grigio
1 oz. Cranberry or pomegranate juice
Fresh berries (for garnish)
Directions: Pour VOGA Pinot Grigio and vodka into chilled martini glass. Top with cranberry or pomegranate juice. Garnish with fresh berries.
Little Black Dress
Ingredients:
4 oz VOGA Merlot
3 oz. Coca-Cola
Lemon/lime (for garnish)
Directions: Pour VOGA Merlot, then Coca-Cola over ice. Garnish with lemon or lime slices around the rim of the glass.
Flirty Fashionista
Ingredients:
3 oz. Peach Nectarine Sparkling ICE
2 oz. VOGA Prosecco
Sliced white peaches for garnish
Directions: Pour VOGA Prosecco, then Peach Nectarine Sparkling ICE over ice. Garnish with sliced peaches, raspberry and basil
We just love the selection and options. There are so many, you can create your own unique cocktail. You can find VOGA wines and Sparkling ICE drinks in most major cities, be sure to check your local fine wine and liquor super stores.
For more information, visit vogaitalia.com and sparklingice.com.
Video Slider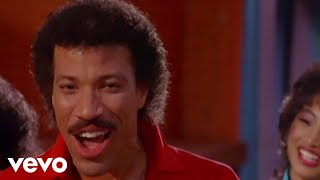 Win Tickets to See Lionel Richie at Hollywood Bowl
Lionel Richie is performing with very special guest Mariah Carey on the All the Hits Tour, and your chance to see them is at the Hollywood Bowl on Monday, July 31.