Grab a Delicious Slice From The Chocolate Pizza Company
Chocolate Pizza Company's gourmet chocolate specialties have been a favorite for business and personal occasions for nearly three decades. (Courtesy photo)
Is there anything that sounds more beautiful than the words "chocolate" and "pizza" joined together? Thanks to the Chocolate Pizza Company, there's a world of mouthwatering treats.
Founded by Ryan Novak, the company has been a favorite among many for nearly three decades.
Recognized and praised for their gourmet chocolate specialties, The Chocolate Pizza Company has been featured in magazines including Forbes, People, and Chief Executive.
With more than 100 unique creations, the proud family owned and operated brand uses the highest quality chocolate.
If you're having a party or any sort of get together, or even a quiet night in alone, order yourself a whole pizza or just a slice.
Customers can choose from various categories like the Candy Avalanche, Chocolate Pizza-Nuts, S'mores Chocolate Pizza and more.
For those who can't seem to satisfy their sweet tooth, any item from the Candy Avalanche will be a dream come true.
Considered a "supreme" pizza, it comes loaded with chocolate and other popular candies.
Peanut butter lovers will go crazy for the Chocolate Pizza Peanut Butter Avalanche. Retailing at only $24, it has rich milk (or dark) chocolate blended with homemade English toffee which is then topped with a variety of peanut butter sweets and cookies.
The Large Colorful Candy Topped Chocolate Pizza seems to good to be true with its colorful hard-coated chocolate candies.
Retailing at $31.95, it has been a best seller for years.
People will go nuts for the Drumstick Choco Pizza.
Featuring caramel, pretzel, nuts and sea salt, the treat is a newer creation and retails for $24.95.
Forget camping in this heat, you can have s'mores in the shape of a pizza with the Smore Chocolate Pizza with Caramel | Caramel-icious.
For only $22.95, customers can chow down on mini marshmallows and chunks of graham crackers blended with milk chocolate.
When purchasing any item, customization of pizza size and (usually) chocolate flavor is available.
If you're feeling hungry now, make sure to visit www.chocolatepizza.com to place an order and view all of the tasty treats available.
Video Slider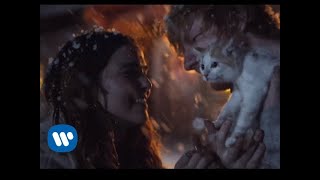 Win Tickets to See Ed Sheeran at the Rose Bowl
Ed Sheeran is back in Los Angeles, and your chance to see him perform is at the Rose Bowl in Pasadena on Saturday, Aug. 18. We are giving away complimentary tickets to the show. For a chance to enter to win, email us at
[email protected]
with "Ed Sheeran" in the subject line and tell us why you would like to go.