Going Old School with Vinyl or Stick with CDs and Digital Downloads?
Going old school with vinyl or stick with CDs and digital downloads?
There's a growing trend in music circles whereby music fans are returning to the days of vinyl. Perhaps popularized by people who never really believed that either CD or DVD digital audio was better than wax-based vinyl, or just reaching back to better times in the past, vinyl is hot once again!
South African solo artists and bands must decide whether to embrace the growing trend for vinyl or stick with CD production and digital music streamed or sold online.
Vinyl All the Way
Whether choosing a 12-inch sleeve or wanting to pay for a 12-inch gatefold custom vinyl pressing, getting some wax with your music on is the latest thing for artists who want to look cool and trendy.
When their music depends on being seen as the next big thing, then pushing hard on the vinyl buzz might be a bandwagon to jump onboard. There are gatefold jackets which open at the front to reveal information about the tracks and the artist or band, or the simpler sleeve. The gatefold is more flamboyant but is usually a bit more expensive. Vinyl is pricier than CDs or digital, but on a limited batch run, it could create a worthwhile buzz that the record needs to get over the top.
CDs
Organizing a print run for a CD is another way to go. CDs remain popular as a way to transport music easily or keep a collection. Some people still prefer CDs over buying music online. Either they just like how CDs sound or they enjoy being able to hold the physical product and store it easily too.
CDs are available in a variety of formats and designs. Certainly, CDs hold more music than a conventional vinyl record will, but that's not always the goal for artists with a small list of produced songs. It's also a good idea for artists to look at what their contemporaries are doing who are independent and getting their own music products produced and selling them at gigs.
Digital Tracks
Selling digital tracks via an artist's website, on a streaming service and song download sites can bring in a steady stream of income once the artist or band is better known. While it skips the cost of production (but not the recording studio time), each of these sites takes their cut of the revenue stream, which gets costly over time. For musical artists who want more of the money from their sales to hit the bottom line, sometimes, getting their own vinyl or CD printed is a better way to go.
There's no one right way. Sometimes, budget permitting, using vinyl for limited runs, CDs for mainstream sales and digital tracks too is an effective way to diversify the income. Different sales channels wax and wane on volume and online sales of digital tracks or physical products sometimes get heavily discounted outside of the control of the artist. Therefore, using more than one method is often the best option once there's enough revenue to invest in the artist or band.
Video Slider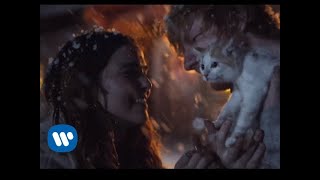 Win Tickets to See Ed Sheeran at the Rose Bowl
Ed Sheeran is back in Los Angeles, and your chance to see him perform is at the Rose Bowl in Pasadena on Saturday, Aug. 18. We are giving away complimentary tickets to the show. For a chance to enter to win, email us at
[email protected]
with "Ed Sheeran" in the subject line and tell us why you would like to go.