Going Ga-Ga Over A Star is Born and its Oscar Chances
Lady Gaga and Bradley Cooper in A Star is Born (Warner Bros. Pictures)
The one to beat.
Through four big-screen versions, A Star is Born has proven to be truly evergreen and the fresh-spin current release, starring Bradley Cooper and Lady Gaga, has been tagged as a front-runner to win the Academy Award for Best Picture.
It's also produced boffo box office but a big audience doesn't always translate to a handful of awards. If so, Star Wars and its sequels would have run the table years ago. But A Star is Born is the real deal and so are its chances of taking home an Oscar. Though it may be too early to say it will take home THE Oscar for Best Picture.
Several of SBR's top-rated sports are offering odds now on the possibility of A Star is Born, and up to 20 other contenders, to take home Academy Awards. After nominations are announced on Jan. 23, more of SBR's sportsbooks like the well-reviewed Bovada will offer odds on the Oscar race.
Frankly, with a few contenders still to be released and unseen by critics, moviegoers and Academy voters, it is tough to assess A Star is Born's chances – but we sure are going to have fun trying.
The romantic-tragedy roughly follows the storyline of its predecessors: A popular singer wrecked by substance abuse meets and falls in love with a star on the rise. The twist in this Bradley Cooper-directed musical is that we actually end up rooting for falling star Jackson Maine as opposed to Kris Kristofferson's 1976's John Norman Howard who was basically a drunk jerk opposite Barbra Streisand's Esther Hoffman.
First, let's get this out the way – the movie already has fulfilled the prophecy of its title. Sure, Lady Gaga is an award-winning superstar singer but now she's a movie star. Bona fide.
You knew Gaga would knock it out of the park when she sang in the movie, but she also gave a tender, nuanced performance, portraying Ally's surprise and struggle to grow into a viable pop star while trying to maintain her musical integrity all the while her lover's star is quickly fading in a booze and pill haze.
Gaga most certainly will be nominated for every acting award out there, but we have to say Oscar's Best Actress category is likely to be the most competitive race this year. Gaga will face formidable competition including Glenn Close for her performance in The Wife, Viola Davis in Widows, and Saoirse Ronan in Mary Queen of Scots. Oscar does like fresh faces, but this race will be close, pun intended.
Cooper is a double threat in the Oscar race this year in both the Best Actor and Director categories. He is favored across the sportsbook board in the acting category against stiff competition including Oscar winner Christian Bale for his portrayal of Dick Cheney in Vice, Ryan Gosling as astronaut Neil Armstrong in First Man, Rami Malek as Freddie Mercury in Bohemian Rhapsody and Robert Redford in The Old Man and the Gun.
Cooper is the underdog in the director category with Alfonso Cuaron having even odds for this work in Roma, a movie chronicling the life of a middle-class family in Mexico City in the 1970s. Other competition includes Damien Chazelle (First Man), Spike Lee (BlacKkKlansman) and Ryan Coogler (Black Panther). Though the academy does like when actors go behind the camera, including Redford (Ordinary People), Mel Gibson (Braveheart), Ron Howard (A Beautiful Mind), Woody Allen (Annie Hall), and Clint Eastwood (Million Dollar Baby).
As for Best Picture, A Star is Born (23/10) is definitely the favored frontrunner on all sites, especially with Chazelle's First Man (4/1 on Paddy Power) and its failure to launch in its United States debut. The movie about Armstrong's rise from test pilot to the first man to walk on the moon is off to slow start, but will still be nominated. Other movies to fill out this category, Roma (5/1), Black Panther (6/1) and Beautiful Boy, about a father (Steve Carell) trying to save his son, played by Timothy Chalamet, from drug addiction. Our money is on Star but don't count out Roma, deeded a masterpiece at several big film festivals this year.
A Star is Born also has chances to take home awards in Best Supporting Actor with Sam Elliot (wouldn't THAT be fabulous) and, Best Song (shoo-in).
Video Slider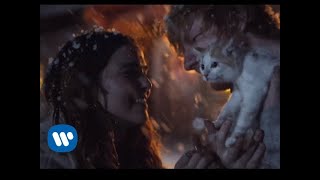 Win Tickets to See Ed Sheeran at the Rose Bowl
Ed Sheeran is back in Los Angeles, and your chance to see him perform is at the Rose Bowl in Pasadena on Saturday, Aug. 18. We are giving away complimentary tickets to the show. For a chance to enter to win, email us at
[email protected]
with "Ed Sheeran" in the subject line and tell us why you would like to go.