Glenn Close, Jonathan Pryce Discuss The Wife
Glenn Close and Jonathan Pryce in The Wife (Sony Pictures Classics)
It seems like a foregone conclusion that any movie with a female protagonist released in 2018 will elicit references to the #MeToo movement, but The Wife, which stars Glenn Close as the underappreciated wife of a Nobel Prize winning author (Jonathan Pryce), actually earns the comparison. As Close herself notes, "I think this movie fits right in with today. Because the movie is called The Wife, written by a woman based on a novel by a woman, it was hard to make, and that says something about the movement and the need for it. And I think it represents what I hope continues to happen which is two women writers, women composer, woman editor and costume designer, and many women producers who happen to be the best for this project. This represents the kind of collaboration that will go forward, and I hope with hopefully the success of this movie, it will give people permission to go after movies that tell these kinds of stories."
And yet, The Wife was not made in the wake of the #MeToo movement. Meg Wolitzer published the novel in 2007, and the film was completed eighteen months ago, so the film's relevance is accidental, and close herself prefers to see it as a story about specific people rather than as one instructive about how things are today. "This is the kind of movie that used to be made," Close explains, "Jonathan said yesterday that if you tell a very specific story about very specific people, it allows the audience to bring whoever they are to that type of story, and I think he put it incredibly well."
Close stars as Joan Castleman, the wife of a distinguished author played by Pryce who has recently been awarded the Nobel Prize in literature. She travels with him to Sweden for the awards ceremony in Stockholm, and during that time she confronts the sacrifices she made throughout her marriage, while a persistent reporter (Christian Slater) attempts to discover the secrets behind her marriage.
In order to play her character, Joan Castleman, Close had to understand the particular choices that the character made, particularly in light of the behavior of her on-screen husband. "I had to understand why she never left him," Close says, "I didn't want to make a movie where all the women would just sigh, 'Just leave him!.' But it was so much more complex than that, and I think the exploration we did to answer that question really made her a character whom I could believe in and love." Close believes the film has succeeded, because audiences have reacted in a more opening way to the story. "The thing I have been really gratified by is that numerous people have said that they look at it as a love story," she explains.
The Wife contains a third-act twist that upends the entire film and makes audiences reconsider Joan's experience during her marriage, and — without spoiling this major development — raises questions of whether Joan was correct. Close is adamant, though, about her character. "If I lived Joan's life, I think I'd do exactly what she did."
Close, who with the release of this film immediately becomes the favorite for this year's Best Actress prize, has the more sympathetic role, but Jonathan Pryce as her philandering, Nobel Prize-winning husband has a role that is equally complex. He also sees The Wife as a film that both speaks to the moment and has a timeless quality. "If you make an honest enough film about any social situation or political situation, that belongs at the time you make it, that resonates throughout the generations," Pryce says. "A film I made thirty years ago, Brazil, which was about big government and dictatorship and terrorism, it was about its time, but it's still relevant today. The situations in The Wife will be relevant, too. It's kind of coincidence that the #MeToo movement eighteen months later is there, but it came out of issues that are being dealt with in this."
Unlike many of his fellow cast members, Pryce never read the book on which the film was based, because he didn't feel it was necessary for his character. "I didn't read the book, and I haven't yet," he says. "I was more intent on making that script, and sometimes you can read around the subject too much, and you regret things that were left out of the script. And if the screenwriter has done their work, I don't see why I should waste my time."
Fortunately, Pryce has nothing but praise for the screenplay by Jane Anderson, and thus did not need to rely on Meg Wolitzer's original novel. "I I really liked the script, and it's the kind you don't get very often. It didn't need endless rewrites, and it was concise and economical, and had a complex story that would be what one would find interesting." But despite the promise of a great script and the chance to work with Glenn Close, Pryce reveals what really drove him to do The Wife. "The money," he jokes, "It's a job!"
Video Slider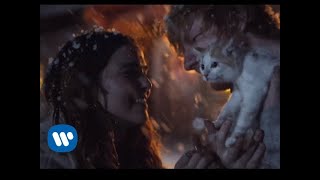 Win Tickets to See Ed Sheeran at the Rose Bowl
Ed Sheeran is back in Los Angeles, and your chance to see him perform is at the Rose Bowl in Pasadena on Saturday, Aug. 18. We are giving away complimentary tickets to the show. For a chance to enter to win, email us at
[email protected]
with "Ed Sheeran" in the subject line and tell us why you would like to go.