Getting to Know Los Angeles: Revlon Run Making a Difference in Women's Lives
This past weekend was Mother's Day, with many events going on in the city in honor of mothers and women. Restaurants had special menus and prices, and beaches were filled with families. One special event that took place at Los Angeles Memorial Coliseum at Exposition Park was the 21st Annual EIF Revlon Run/Walk for Women.
More than 30,000 people woke up early on Saturday morning and made their way to this event, which has been taking place since 1994, in honor of mothers and female cancer survivors in their lives. The Coliseum was filled with participants dressed in pink and red, with some wearing custom team shirts decorated with an image of or phrase about the woman they were running in honor of.
Revlon Global Brand Ambassador, Halle Berry hosted the event. Also in attendance were Emmy Award-winning actress and cancer survivor Christina Applegate and "Entertainment Tonight"'s Brooke Anderson. Grammy-winning recording artist Brandy sang the National Anthem, and there was even a surprise appearance by Golden Globe- and double Emmy-winning actor Bruce Willis. He was a treat for many of the ladies to see at the event.
During the race's opening ceremony, British singer-songwriter and musician Matt Goss performed his hit "Strong" for all of the participants and his mother, who was a cancer fighter. The whole crowd holding their arms in the air made quite an impactful image.
The race began promptly at 8:45 a.m., and it was heartwarming to see families running and walking together for the cause, whether they ran in honor of somebody who has survived the fight or in remembrance of one who was not so lucky. Overall, the course was flat and easy, with plenty of water stations and music to enjoy along the way.
The best part was near the end, as runners made their way into the Coliseum through the same tunnel that the USC Trojans use to take the field on game days. Once on the field, it was a straight shot to the finish line where runners were greeted by volunteers handing out metals to all the finishers.
After completing the run and catching their breaths, participants headed over to the USC campus to look at vendor booths and get some goodies. They were pampered with manicures and temporary art tattoos from Toyota. Revlon gave out lipsticks, and Voskos Greek Yogurt handed out samples of their new flavors.
This awe-inspiring run has raised more than $70 million to date for cancer research, counseling and outreach programs. These events alone have raised much-needed finds that have helped deliver non-toxic treatment for breast cancer. The EIF Revlon Run/Walk for Women has become one of the largest, single-day fundraisers for women's cancer in the United States.
For more information on future events, visit revlonrunwalk.org.
Video Slider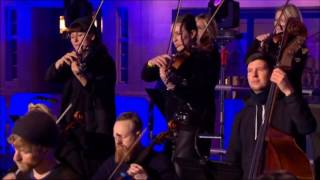 Win Tickets to See Pete Tong at Hollywood Bowl
Pete Tong is back in Los Angeles, and your chance to see him perform is at Hollywood Bowl on Thursday, Nov. 9. We are giving away complimentary tickets to the show. For a chance to enter to win, email us at
[email protected]
with "Pete Tong" in the subject line and tell us why you would like to go.