Get Your Fill of Ocean Delectables at Off the Hook: Santa Monica Seafood Festival
Gather a group of friends and head to the Santa Monica Pier for Off the Hook this Saturday.
While the majority of western L.A. County struggles to beat the arid desert heat during this uncharacteristically muggy fall season, the beachfront enclave of Santa Monica is going to be basking – as per usual – in the misty, salt-soaked air of the Pacific Ocean. Indeed, the city has always celebrated its proximity to the Big Dip, especially through its selection of food, which has historically leaned heavily towards fresh-catch seafood of the highest order.
As such, it's only natural that Santa Monica would play host to this weekend's massive seafood fest Off the Hook, a blow-out party on the Santa Monica Pier meant to pay tribute to seafood of every stripe. Taking place on Saturday, Oct. 17 from 3 p.m. to 7 p.m., the seafood fest is designed to highlight SaMo's most illustrious seafood chefs and restaurants by serving up dishes that feature all the briny staples of the depths, such as shrimp, oysters, mussels, fish and many more. In celebration of October being National Seafood Month, the fest trots out fare from fine outlets such as the Lobster, Catch, Del Frisco's Grille, Whiskey Red's and others.
All that being said, Off the Hook isn't only celebrating the delicious food our oceans can provide, it's also attempting to make the public aware of the delicate ocean ecosystem that makes their delicious favorites possible. Part of the proceeds from the fest go towards the Aquarium of the Pacific's Seafood For the Future program, and several on-site interactive displays will feature educational programming such as "How Can We Support Local Fisherman" and "Understanding Where Your Fish Comes From.
Regular tickets run for $60 dollars in advance, but for $90 dollars you can gain access to the plush Sustainable Seafood VIP Lounge, featuring curated cocktails and live chef demos. Whether you're a dyed-in-the-wool seafood fanatic or just plain hungry, Off the Hook is truly the clamboree of the year.
For more information, visit offthehookseafoodfest.com.
Video Slider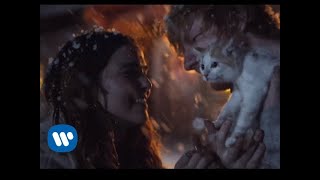 Win Tickets to See Ed Sheeran at the Rose Bowl
Ed Sheeran is back in Los Angeles, and your chance to see him perform is at the Rose Bowl in Pasadena on Saturday, Aug. 18. We are giving away complimentary tickets to the show. For a chance to enter to win, email us at
[email protected]
with "Ed Sheeran" in the subject line and tell us why you would like to go.