Gabriel Porras and María Elisa Camargo Discuss New Novela, "Bajo El Mismo Cielo"
María Elisa Camargo stars as the troubled Adela Morales in "Bajo El Mismo Cielo." (Telemundo)
Telemundo once again leads the charge in original and innovative television with their new series, "Bajo El Mismo Cielo," starring Gabriel Porras and María Elisa Camargo.
The pilot episode premiered at the Downtown Independent theater in downtown Los Angeles July 23. The series is produced by Martha Godoy, created by Perla Farías and based on the film A Better Life. The story follows Carlos Martínez (Porras) – an undocumented immigrant living in Los Angeles, who faces constant peril and struggles to feed and take care of his children – and Adela Morales (Camargo), a young woman immersed in the most dangerous L.A. gangs.
Both stars were on hand at the screening to discuss the show and their experiences working on this project.
"Now that I've seen the work we've done, I'm very excited and have lots of faith in it," tells Camargo. "When you first start a project, there's a lot of uncertainty as to how it will turn out. Normally it takes about two months after a project is completed to get feedback, but this time we have a chance to see it very soon after we wrapped up. I'm anxious for everyone to see it."
Porras was moved by the pilot episode and praised the work Camargo did, as well as the production team that made this a reality.
"I'm so proud. I knew how talented she was, but she left me with my mouth open. Those are some tough scenes, but she made everyone sync together," he says of Camargo. "We're a great team with lots of heart. We knew from the beginning that it would be filled with drama, love of family, and we have the perfect cast to reflect all that. These are all people who have given their all to the project from day one, and it's the right time for this to be up on screen."
For Porras, his character represents something completely different than what he was accustomed to, especially all of the themes that deal with immigration that will serve as inspiration to the hundreds of thousands of immigrants who can identify with Carlos.
"It means everything, especially since for too long, the media has portrayed the immigrant in the wrong light. This is the real message. These people are about struggle and perseverance, hard work and love," he says. "The easiest path is not always the right one, and Carlos Martinez will prove that with love and courage, you can accomplish anything."
His character will also have to address having young, rebellious children who at times are embarrassed by his situation. Central to this character is his adaptation to being alone and raising children, which is not an easy thing to do – especially in this age of the Internet we live in.
"I truly admire parents, especially mine who put up with me. I was a little bastard. So I can truly identify with this, and it means a lot to me," he says.
At the other end, Camargo's character is a young gang member who is constantly facing peril and struggles of her own, in the way of drugs and violence. However, her life changes when she meets Carlos.
"The process was really interesting. I didn't have the opportunity to do much hands-on research for security reasons. I would have loved to have spoken to a real gang member to discuss the culture," she admits. "I was able to look into their subculture online and read about their moral and ideological sensibilities. We largely see them as violent rejects of society who peddle drugs and promote violence and death. But amongst themselves, many are family who support one another. In their own way, just like us, they are searching for acceptance and a place to belong. Looking at it from that perspective changes your perception."
"Bajo El Mismo Cielo" airs Monday through Friday at 9 p.m. on Telemundo. For more information, visit telemundo.com/novelas/bajo-el-mismo-cielo.
Video Slider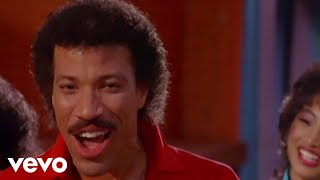 Win Tickets to See Lionel Richie at Hollywood Bowl
Lionel Richie is performing with very special guest Mariah Carey on the All the Hits Tour, and your chance to see them is at the Hollywood Bowl on Monday, July 31.