From Poisonous Poetry to Sweet Death, Rapper Rebeca Lane Proves She's a Warrior
Rebeca Lane raps from the heart and soul. (Christin Sandber)
Out to change the hip-hop scene, both in general and for women, is rapper Rebeca Lane. Hailing from Guatemala, Lane released her newest EP, Sweet Death, earlier this year. The EP was produced by rapper Contra. Likewise, her Poisonous Poetry EP was also released in February of 2015.
Along with her lyrics, Lane has set out to empower women by creating Somos Guerreras (We Are Warriors). The project provides women with spaces for creating, producing content and more.
Lane just completed her first tour to the United States, on an invitation from the Justice for My Sister Collective to get the word out about the documentary film that sheds light on femicide in Guatemala. Justice for My Sister airs on PBS stations this fall for Domestic Violence Awareness Month.
All in all, if you aren't a Spanish speaker, don't let that stop you from checking out Lane's work. Below is a Q&A with the wordsmith herself.
Living Out Loud – Los Angeles: Describe your evolution as an artist over the years.
Rebeca Lane: A few years ago I started to do both theater and poetry, so I guess my evolution was naturally taking me towards performing poetry as I do in rap. Actually, before doing rap, I was already doing spoken word because my poetry started to find its own rhythm.
LOL-LA: Discuss your musical influences throughout your career.
R.L.: I've always heard music with political statements, so I started my rap career influenced by political rap in Spanish such as Actitud María Marta from Argentina and Portavoz from Chile. But making music has led me to appreciate all music that's done from the heart and soul, so I enjoy pretty much all music that is not made for commercial purposes. Right now I'm listening to a lot of jazz and blues. I very much enjoy to sing, and I love to sing jazz and blues.
LOL-LA: Favorite rappers right now, and why?
R.L.: Ana Tijoux is definitely my favorite rapper, because of what she says and how she says it. I enjoy the way her career has developed, as well. She's growing really big but still stays true to her essence.
I like very much Akua Naru and Sa-Roc, who are very powerful women speaking out very powerful words. They have the strength of bell hooks and Audre Lorde, but are doing it right here right now.
LOL-LA: When rapping or constructing lyrics, where do you find your motivation and inspiration?
R.L.: Most of the time I find inspiration in my emotions. I'm a very sensitive person, so I write as I experience strong emotions. I write about what I am and what I feel, and that is constantly changing. But I choose where to flow as I change, and that is: where people are working to change the world into a more loving place for all.
LOL-LA: What do you hope your music does for people?
R.L.: I started to do music because it helped me to speak out and heal at the same time. Some people tell me my songs help them heal. too. I don't know how I do it, but I hope to keep on helping out.
LOL-LA: Tell us about your experience on Da-radio.com.
R.L.: It was very interesting because it was my way into my hip-hop crew, and a way to get to know more about our culture. Also it was an opportunity for me to join poetry and music with artists I admire from Guatemala.
LOL-LA: How excited are you to come perform in L.A. and what can the crowd expect out of your show?
R.L.: I'm pretty excited, and I really hope to share my history and my experience as a Guatemalan woman. To me doing music is not only about performing but also about opening doors to talk about important issues for women.
For more information, visit facebook.com/rebecalane6.
Video Slider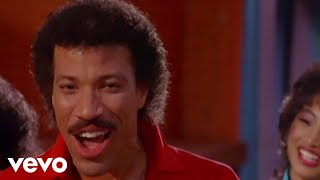 Win Tickets to See Lionel Richie at Hollywood Bowl
Lionel Richie is performing with very special guest Mariah Carey on the All the Hits Tour, and your chance to see them is at the Hollywood Bowl on Monday, July 31.