Five Things We Loved About the Ella Fitzgerald / Dizzy Gillespie Tribute at the Hollywood Bowl
Ella Fitzgerald (Courtesy Photo)
Of all the great performances this summer at the Hollywood Bowl, it's no surprise that one of the best of the year came to the tune of two of the greatest jazz musicians who ever lived. In the Hollywood Bowl's warm tribute to jazz great Ella Fitzgerald and John Birks "Dizzy" Gillespie titled, "Ella and Dizzy: 100 Years, 1,000 Memories," (each of the late musicians would've celebrated their 100th birthday this year) there was an abundance of memorable moments. But here are our top five reasons why we loved the Ella and Dizzy tribute at the Hollywood Bowl this Wednesday, July 19, 2017.
1. Ella's Magnificent Music
One of the most influential and beloved artists of the 20th century, the legendary Fitzgerald's timeless sound has never faded from the American consciousness. It's as much a part of popular culture today—in movies, commercials, cafes—than at any other point. Hearing her music interpreted by other talented artists was definitely a treat.
2. Dizzy Gillespie's Iconic Trumpet
Gillespie's puffed cheeks while playing a trumpet are an image as famous as Santana rocking out on his guitar or John Coltrane on a saxophone. The best part of the tribute to Gillespie was when Ray Monteiro, Rashawn Ross, Kevin Richardson, and Bijon Watson each had a trumpet solo in their cover of Gillepie's "Manteca."
3. The Hollywood Bowl
Listening to world-class artists pay tribute to two of the biggest icons in music would be great in any venue. But add that wonderful feeling of experiencing this amazing night under the Los Angeles stars at a place as unique and iconic as the Hollywood Bowl, and there was nothing anyone could complain about. The Bowl made it a night like no other.
4. The Way They Split Classic Acts and Modern Acts
Great saxophonists like Charles McPherson and Jeff Driskill as well as keyboardist Billy Childs and renowned drummer Lewis Nash formed part of the breathtaking first act of the tribute. After them, came modern artists to interpret many of Ella and Dizzy's iconic music. Among the modern artists were Leslie Odom Jr. (who last year won a Tony Award for his performance as Aaron Burr in "Hamilton" the musical), Andra Day (who enchanted with her interpretation of "But Not For Me") and Lizz Wright (who was great singing "The Way You Look Tonight") each played their part in putting on this amazing show.
5. The Performers
Top to bottom, this was an amazing lineup. It had something for everyone, regardless of age. From each artist's take on Ella's repertoire to the incredible, talented brass players, this was a deep lineup, filled with musical savants.
Video Slider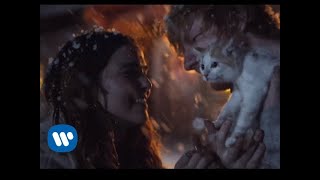 Win Tickets to See Ed Sheeran at the Rose Bowl
Ed Sheeran is back in Los Angeles, and your chance to see him perform is at the Rose Bowl in Pasadena on Saturday, Aug. 18. We are giving away complimentary tickets to the show. For a chance to enter to win, email us at
[email protected]
with "Ed Sheeran" in the subject line and tell us why you would like to go.